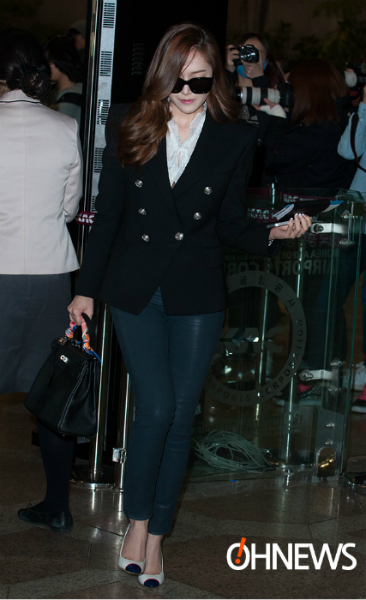 Right before promoting Girls Generation's new song, 'Mr. Mr.', they showcased a range of outfits with distinctive styles at the Gimpo Airport. Out of the collection, Jessica's outfit claimed the OTW.
Simple yet classy, Jessica carried a black double breasted blazer from Balmain, the blazer has delicate buttons with a rather broad shoulder cutting, looking rather powerful yet not losing femininity. This typical Jessica outfit includes a white blouse with frill details at the collar and a pair of blue-grey, shiny jeggings. Tracing down, is a pair of color blocked heels.
Wait, this OTW post is still lacking 1 thing and it definitely enlightens the post. Jessica is carrying a Hermes Kelly Bag! Us Soshi Stylists were thrilled to see this bag joining Jessica's high end fashion collection but,well, not too surprised as everyone knows our Queen Jessica has fashion items fit for a queen. This Kelly bag is really popular among Hollywood stars and celebrities such as Paris Hilton, Lady Gaga, Miranda Kerr etc.
All in all, congratulations to Jessica for winning away our OTW and we hope to see more fashion upgrades in GG's wardrobe! (Hinting the ultimate bag of the decade: BIRKIN!)