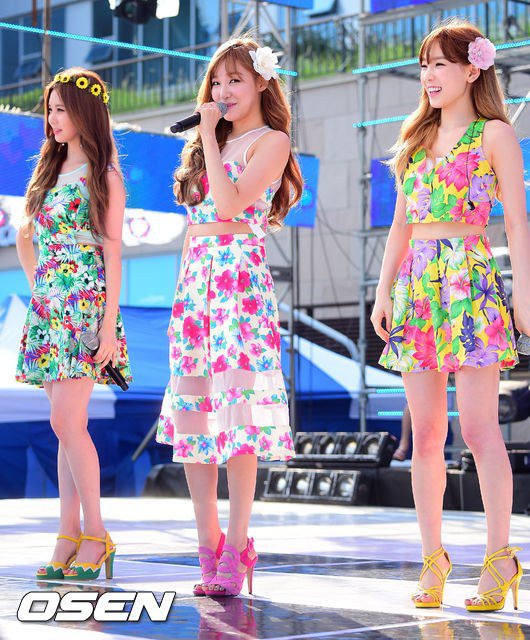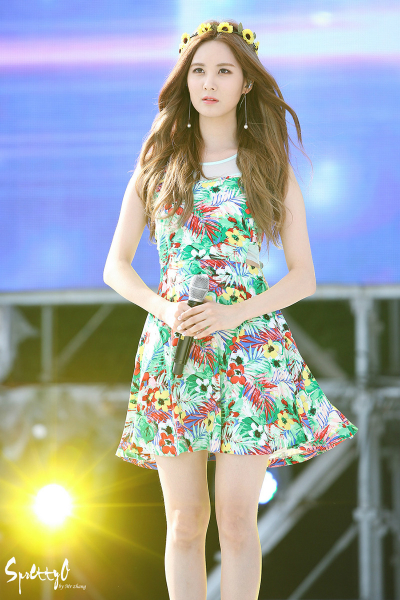 Due to some technical reason, our website was down for the past few days thus there wasn't an OTW poll. We Soshi Stylists decide to still publish our 'Stylist's Choice' article and TTS' floral ensemble gained our attention.
It it already the beginning of August and there is only one month of summer left, but Taetiseo's outfit shined under the sunand brought SNSD's summer fashion to its climax at the Blue Dream Festival performance. Each of the girls adorned a flower (or flowers in Seohyun's case) on their hair and wore cheerful, floral printed clothing with vibrant colors.
Taeny's outfit were from Coiincos. Tiffany's bra top and skirt were composed of a pink-blue floral print fabric sewn with a mesh fabric, the overall feeling was very fairy-like  and the mesh fabric enabled Tiffany to expose her legs and shoulders in a modest way. Taeyeon was the boldest one out of the three, showing her ant waist while wearing a two piece dress with a charming and eye shocking yellow fabric with tropical flower prints.
Seohyun on the other hand had the best outfit but she played it well in a conservative way.  Her palm-print dress in green had some playful suspender straps instead of the normal fabric we use. The dress originally had its sides cut out which would make one's upper waist show, so she wore a pastel green mesh fabric, similar to Tiffany's, underneath. Surprisingly, the combination worked the chemistry and the exotic and summer feeling still remained. Her sunflower tiara which crowned her hair was also the highlight of her outfit. Don't you think it summoned her divinity and made her hair look gorgeous throughout the performance?
We apologize for the site's absence for the past few days, but please remember to vote for OTW this Friday! We thank you all supporters in advance!