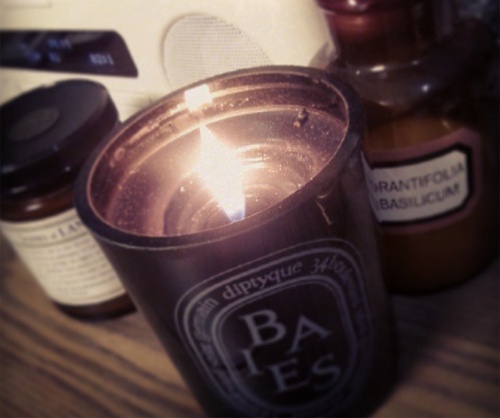 A review on Diptyque Baies Noire (300g Candle) / Berries as depicted on Yuri's Instagram.
There is nothing better than a good scented candle to bring some fragrance into a room without being to overwhelming. In my personal opinion scented candles work better than house air fresheners as they do not engulf the room with an artificial scent and are much preferred to reed diffusers which are too subtle and loose their scent after a week. With a lot of testing to find the perfect scented candle that I discovered French brand, Diptyque.
Well-known French perfumer, Diptyque are infamous for their high quality scented candles which are made from natural high quality ingredients. The wax in each candle is evenly distributed which allows the candle to burn evenly and are inspected to enure that wicks which are straightened by hand are 3-4mm long1. Diptyque scented candles are presented in a mouth-blown glass2 and packaged with care with accompanying instructions on how to care for candles.
It is perhaps with this attention to detail and quality of product that this 300g candle comes to a pricey $90USD and if you are like me and residing in Australia, the RRP for this magnificent candle is approximated $135AUD at David Jones! But is the price worth it?
Yes, it is. The Baies scent is my second favourite (first being Gardenia) from the perfumer's candle range. The bouquet of roses and black currant leaves has a fruity scent that is not too overpowering. Though the dominant scent in the concoction is the black currant leaves, you can still smell the delicate scent of roses if you take the moment to inhale to identify the scents lingering in your room. I find this scent unique as it is not a typical fruity or floral scent that one would come across often, and have been complimented a few times by visitors who all have asked what scent I have used in my room.
I would advise following  care instructions that come with the package, such as trimming the candle wick after use to ensure a cleaner burn for future use. The smokey black glass also shouldn't be left to waste after finishing the candle and after using the Baies candle, I cleaned out my jar and reused it as a small vase for flowers from my garden. Other great things I have seen some people do with their recycled Diptyque jars were: create a terrarium 3, make-up holder 4, and hair-pin holder 5.
Specs:
Approx. burn time: 90 hours.
10.2 oz.
Approx. dimensions: 3 1/2″W x 4 1/4″H6
Rating: 4.5/5
You can purchase the Diptyque Baies Noire candle here