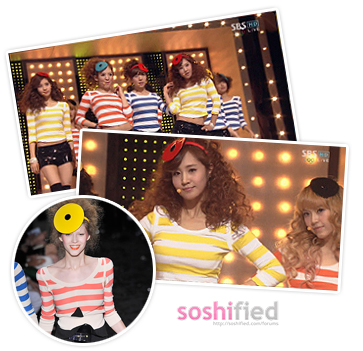 Sonia Rykiel: Ready to Wear Spring 2010  Collection
In OH! – Show Show Show. They again revive 80's look but with a glitz and glamor twist. Sequin shorts, and eye catching hair accessory were the key components of the look. With the long sleeve stripes to remained true to the 80s and concept. Although some may say this style is gaudy and over the top, darling the 80s were all about being over the top.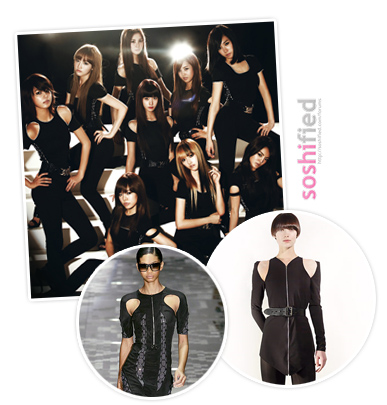 Gucci: Ready to Wear Spring 2010 Collection
Tim Hamilton: Ready to Wear Fall 2010 Collection
SNSD Run Devil Run concept was the complete opposite of Oh! Instead of looking to the past for inspiration, they instead took a look forward the future for their new concept. Well all right, not literally from the future, but we are sure fascinated with this new look. Gucci – Spring 2010 RTW and Tim Hamilton – Fall 2010 RTW uses dark skin tight clothes to create a clean Silhouettes. The also played with lines and cutouts makes for a sophisticated and mysterious look.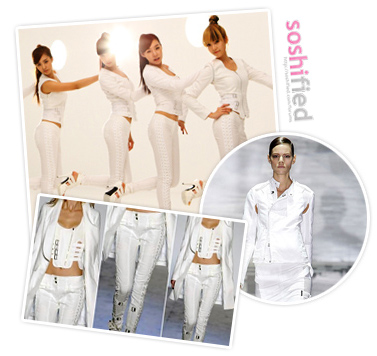 PHI: Spring/Summer 2010 Collection
Gucci: Ready to Wear Spring 2010 Collection
Their outfits play on the neutral shade of white. Tightly fitted leather pants and tops, again give a simple silhouette. They accented with buckles and lace down the side of their legs give a sexy vibe to the outfits with such a innocent shade.