After a short delay due to server issues, we're back for this week's outfit of the week, where after a close vote, Jessica again walked away with the Reader's choice, while we here at Style picked Seohyun as ours!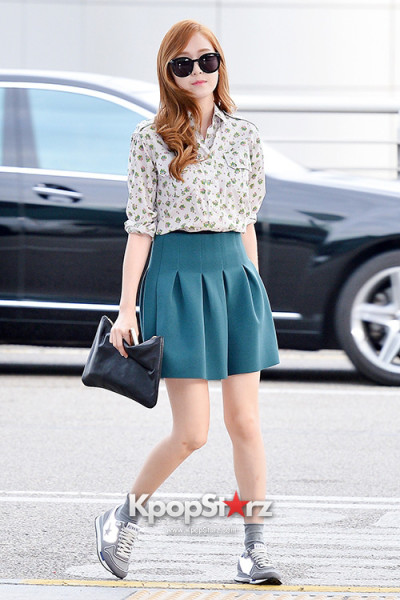 The Ice Princess strutted out of Incehon last Wednesday in a chic but comfortable outfit that was just perfect for the occasion. She paired a light beige floral print top with a high waisted teal skirt that meshed very well in coloration and tone, and allowed her to stand out amongst the other members fashion choices. Rather than wearing heels or flats, Jessica opted for a pair of grey-and-white trainers with matching grey socks, meaning she could not only be comfortable, but also be able to outrun any paparazzi(kidding!). She also sported a small leather clutch, and her ever present sunglasses.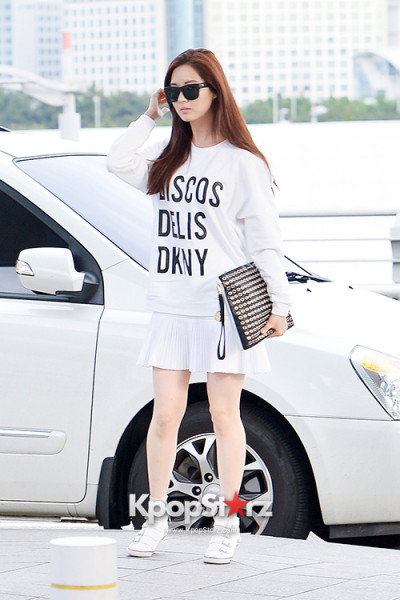 We here at Style couldn't get enough for Seohyun's white ensemble, as the overall style of the outfit, minus the shoes, hearkens back to the white gym outfits they wore in the "Into The New World" MV.  Her bold DKNY sweatshirt was the centerpiece, and emblazoned with a graphical print, draws a lot of attention to it and showcased a hint of edge. The bagginess of the sweatshirt made her skirt look shorter than it was, which also draws attention to her toned legs. Her ASH white leather wedge sneakers stuck with the casual theme of the ensemble, and she completed it with a square laptop bag and sunglasses.
Congrats to Jessica for being the Reader's choice and Seohyun for being the Stylist's Choice. And of course, thank you all for voting!
Credit: KpopStarz