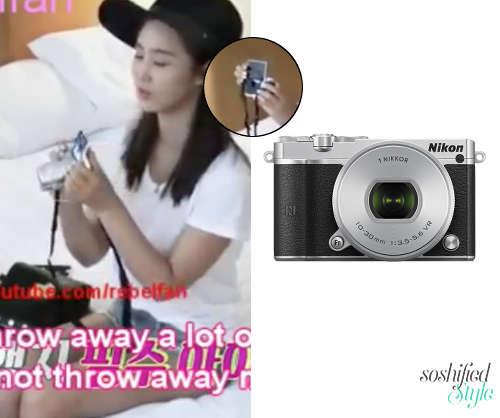 As seen on: Channel Girls' Generation, Episode 6
The members of Girls' Generation are often seen at the forefront when it comes to discussions about the marketing and trending effects idols have on consumers, both in Korea and abroad. I'm sure many of you have been influenced into either making a purchase or debated a purchase just for the fact that it was either worn, advertised or used by one of the members. I'm guilty of this when it comes to the tech they make use of, as being the only male member on the team…many of the fashion items they wear just aren't made for me. However, this being a camera review, this is right up my alley, and something I hope many of you read should you be interested in snapping pics like Yuri did during Channel SNSD.
As mentioned before, the members tend to be very trendy when it comes to both fashion as well as technology. The Nikon J5 is no different, being Nikon's newest mirror-less camera as of it's release date of April 2015.  With it's small size and good image quality, it's no wonder Yuri made use of it on the show for her paparazzi-esque needs, and that many other reviewers and sites gave it high-marks. Given Nikon's track record, this is not surprising. It's a very good camera. But it does have it's downsides, and a few of those may be enough of a deal breaker to warrant passing over the model. There are a lot of benefits too, and I'll start with what makes this camera good.
For some, size is the biggest factor. Not everybody has hands large enough(or enough arms strength) to comfortably hold a Canon 1D with a 70-200 f/2.8 USM IS II. Much less, not everybody needs to do that in the first place. Some people just want something they can fit in their purse or bag and take with them for those shots when a camera phone just won't cut it. And the Nikon shines great in this regard. Weighing in at less than .5 lbs/.23 kg, it's far lighter than a bulkier DSLR like the Canon 7D or the Nikon D7100, even if you factor in the lens. Much more, this is something that will fit into a purse or bag without issue, while those models require a dedicated camera bag or a large backpack. For some people, that's enough to convince them this is the model for them. Nikon offers a variety of lenses to suit ones purpose, and whether you need a wide-angle lens to capture Singapore's Marina Bay in all it's grandeur or a zoom-lens to nab that shot of Tiffany waving during a Phantasia concert(and I do envy you if that's the case!), there are lens that will do that. Add on the ability to record 1080p at up to 60fps(think of the fancams!), and you've got a very versatile camera in your hands. Or bags, purse, what have you. And whatever images you do capture, you can rest assured that it'll be leagues better than what a cellphone is capable of. Despite the slightly larger footprint compared to say an iPhone 6S+, the photo quality will make you happy that you brought it out to handle picture duties instead of Apple's flagship. Much like the iPhone, it also has WiFi capabilities, so you can transfer images from the camera to your computer without the hassle of finding your memory card reader or having to ever take the memory card out of the camera. Useful? I'd definitely say so. Adding in all of my previous praises, and you can see that there's certainly a lot going for it, and rightfully so.
Downsides? There's not many, but they do exist. A big one to mention is although there are a few lens for this type of camera, they are dwarfed by the amount you can find for regular Nikon D-model's. Many camera rental places will stock these newer models, but you'll not have the same variety to choose from. Another issue, this one may be specific to K-pop fans/concert goers, is that although it's fairly small, it may not pass the criteria that it's not a professional camera, and you may not be allowed to take it in to certain events or venues. If you just plan on using it for fun, this isn't an issue, but if you're looking to be the next fansite master, you may have trouble getting this one in. Speaking of fansites, that brings me to my next con. The quality you get will exceed smartphones, no question about it. But it's not quite up to par with larger dSLR's. For most pictures, you won't notice much of a difference. However if you are a fan of concert photography, comparing your low-light shots from the J5 to the larger models fansites use, and you'll see they managed to get clearer and overall "better" pictures. Of course, their camera was about 4x heavier than yours and tens of centimeters longer, but it's still something to note. Lastly, battery life is a little on the low side. It's rated at 250, which is likely enough for a standard day-out, but if you are somebody that thinks they'll take it to a lot of events and will be snapping away for hours, or wants to do a lot of fancamming, you may have to invest in another battery to be able to make full use of it over a long time period.
Well, there you have it! I apologize if any terms I used were too technical or need more explanation, and I'll be happy to answer any questions left in the comment section or clear things up. Overall, this is a great little camera that many people will find is just enough for them, but may not be suitable for power users or those that crave the most powerful camera on the market. Still, for it's size and the price, I'm going to go ahead and recommend it, giving it a rating of 4.5/5.
Thank you again for reading, and hope this helped any of you on the fence about buying!
Nikon: J5 Camera @ nikonusa.com $499.95