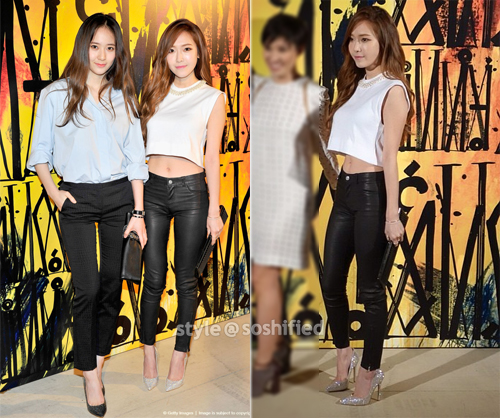 Image credit: Getty Images
First of all, we Soshi Stylists would like to express our deepest condolences to the victims of the Sewol Ferry accident. To pay our respect to the incident, we decided to suspend the OTW poll for the week.
Our winner of the week is Jessica, who flew to her homeland, California, for a Jimmy Choo event. Probably because she has court advantage, Jessica shimmered with glamour in this clean but swank outfit. This summer, crop tops is a frenzy, the pearl decorations on the neckline replaces the position of a statement necklace so as to lighten up the rather plain top. The pair of black skinny was a well presentation of Jessica's lean figure and not to mention, her envious 11-abs. How could this outfit be perfect without a pair of heels? Shining in the spotlight, Jessica slipped in a pair of Cinderella shoes – glitter-finished pumps from Jimmy Choo.