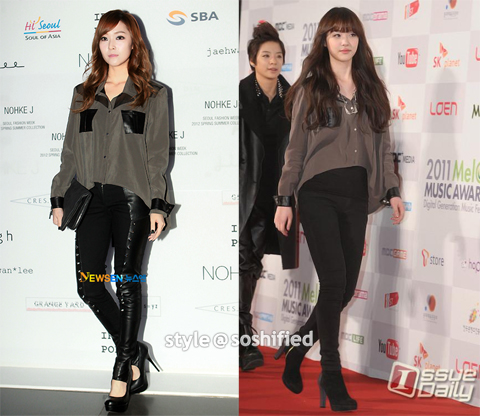 It's another SNSD-f(x) showdown, and this time Jessica battles it out with f(x)'s Sulli as both of them were spotted wearing the same top at different events. The shirt with leather detailing is from the Fall 2011 Collection of South Korean brand, Nohke J. Jessica wore it together with leather panel pants and pumps at the S/S 2012 Seoul Fashion Week months ago. On the other hand, Sulli styled it identically with black pants and boots when she walked the red carpet at the 2011 Melon Music Awards. Both sported the big wavy hairstyle and had respective accessories with them. The only distinct difference between the two gorgeous ladies is that long-torso Sulli chose to cover up by wearing a black camisole underneath the shirt.
Which SM beauty do you think rocked the Nohke J shirt?

Loading ...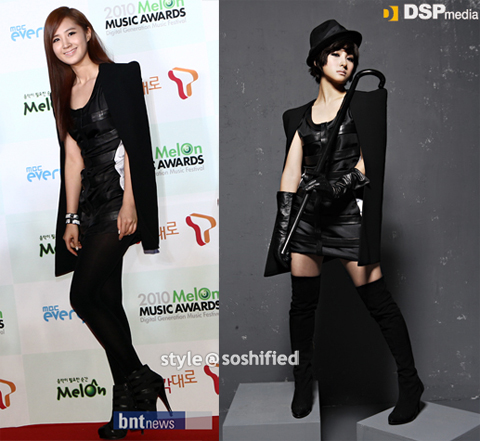 In the next round of Who Wore It Better, Yuri clashes with Kara's Park Gyuri as they show off their own style wearing an ensemble from Kaal E. Suktae's Spring 2010 RTW Collection. Yuri went ahead and showcased her infamous black pearl image when she wore this outfit in attendance to the 2010 Melon Music Awards. She kept everything else simple, from her straight sleek hair to minimal accessories. Also, she wore opaque tights under and a pair of black ankle boots. On the other hand, Kara's leader Park Gyuri wore the same number for her group's promotional photos for its album "Lupin". She matched it with a shaggy short hairstyle and thigh-high boots. The cape plus dress gave her the perfect portrayal of mystery.
So, is it Yuri's sexy styling or is it Park Gyuri's Lupin rendition?

Loading ...