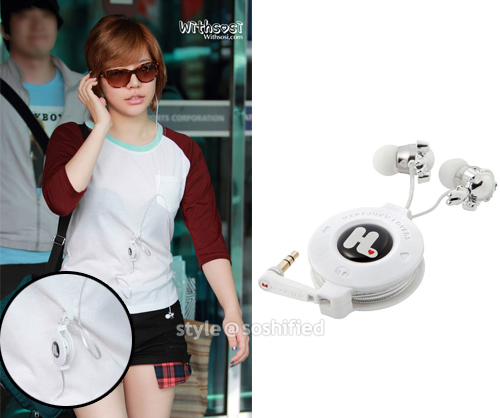 Review on the Harajuku Lovers Monster Space Age In-Ear Headphones as seen with  Sunny.
Here's what comes with the earphones:
5 clip-on body colors
Retractable cord keeper
Multiple eartip sizes
Heart-shaped compact case
Well, there are both good and bad sides to these cute and stylish headphones so i'll just start with the advantages! These headphones are pretty comfortable, as all in-ear headphones are, and you can choose which size of the eartip fits your ear the most.
The sound quality is also pretty decent, considering it's much cheaper than some other headphones such as Beats or even the Apple In-Ear Headphones.
In addition, the compact case is practical and convenient to store your headphones properly. I feel that the retractable cord keeper was a good idea but… well I'll get to that soon.
Now for the disadvantages. One of the major drawbacks for these headphones is the retractable cord keeper. Despite the concept of it being clever in the way that it is supposed to avoid tangling, sometimes the wire gets tangled in the cord keeper, making it totally troublesome. Occasionally it even gets jammed and really messy. Also, it has a tendency to retract by itself when you're walking, causing the earphones to get pulled out of your ears. Of course you're meant to clip it on but seriously, it's a little troublesome to keep having to clip it on all the time. It's hard to patiently untangle the wire from the cord keeper.
Also, the paint on the earphones chips off pretty easily so you have to keep them properly when they're not in use. ( Well, that's what the case is for!)
Well all in all, the sound quality, the looks and the comfort of the headphones are fine but for me, the retractable cord keeper is a major drawback. Then again, I'm very impatient. So, if you're fine with it then i think it would be a great investment!
Rating: 3/5 
(I still wouldn't fail it)