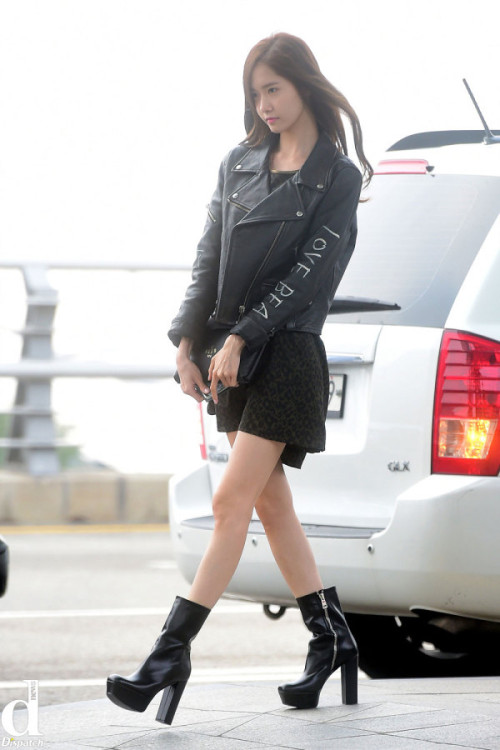 Coming off the last few days here and back from Japan and China, we had plenty of airport outfits to go around. This time, Yoona came out of Incheon with this lovely little black ensemble that won your hearts, or at least your votes! Let's take a look at it.
"Rock star" is one way to describe the style Yoona showcased here. Every piece of this ensemble was a dark shade, and more than half of it was leather, both of which are quintessential pieces in a rock star's wardrobe.  Her Golden Goose Deluxe Brand'Bear' Biker Jacket set the tone for things, with the script writing on the sleeves providing it a little more versatility than just a regular leather jacket. Underneath, she wore a Claudie PierlotRififi Bis Dress with a leopard-esque design. The dark pattern meshed very well with the leather jacket, with it's ever so slightly lighter color allowing the rich black leather of the jacket to "pop" even more. Finishing off the ensemble was her pair of Gucci 'Claudie' Platform Boots , whose 5 inch heels and patent leather trim made her look not only stunning, but statuesque as well. She carried a small clutch purse for an accessory, and otherwise was bare from any necklaces or sunglasses.
Congrats to Yoona for winning the week, and thank you all for voting!
Image Credit: Dispatch