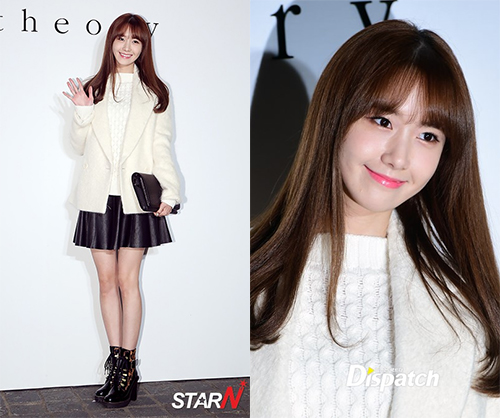 After taking a break from OTW, we are coming back with this perfectly white ensemble worn by Yoona at a fashion store's anniversary event. Yoona extended her trend of wearing boots from last week's outfit and was voted the winner by you guys out of another few fashionable outfits seen at Runway events.
Yoona went all white in this outfit and it reminds us of the snowy, cold atmosphere at Korea. Her fuzzy coat and sweater joined well together as the pure white colour appeals to our eyes. The sweater only had simple knit patterns and the coat only had a pair of buttons to sustain the wearability of it. It also seems like that Yoona favoured wearing boots and black skirts for this wintry season as we can see from the previous airport and from this current ensemble she displayed. Accenting her white look is a black leather skirt and a black leather clutch. The essential piece is those magnificent hiking boots lookalike with details of knots and locking buckles, but unlike normal hiking boots, these are made of patent leather.
Congratulations to Yoona for winning again this week!
(P.S. Yoona's fringe looks great on her, it makes her look more youthful yet not making her look childlike.)