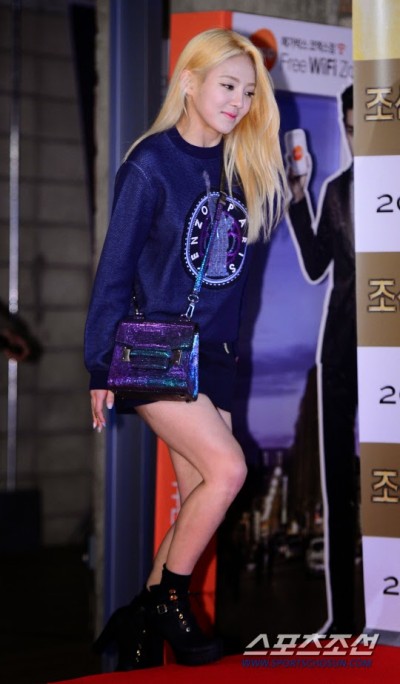 Happy Chinese New Year everyone! We hope you are enjoying yourself this holiday season(I sure am!), and this week, we're bringing you another great Outfit of the Week. This time around, you guys chose Hyoyeon's ensemble from the "Detective K: Secret of the Lost Land" premiere as the winning outfit. Interestingly enough, Hyoyeon attended two events that day, and while she looked great at both, we chose her outfit from the event mentioned beforehand. Let's take a closer look at it.
Rather than overly formal, Hyoyeon wore something more inline with their airport fashion, which isn't to say is a bad thing. Her "glossy" dark blue graphic sweater certainly draws attention, and the unique fabric definitely made it stand out amongst others. Her navy blue skirt was much more muted, but did it's job, as well as show casing her toned dancer's legs. Her shoe choice was a pair of black laced platform booties, a fitting choice rather than high heels. Her only accessory was a very striking glossy blue clutch, which shown in a variety of colors depending on the angle of the photograph.
Congrats to Hyoyeon for this winning this week's Outfit of the Week, and thank you all for voting!
Image Credit: Sportschosun