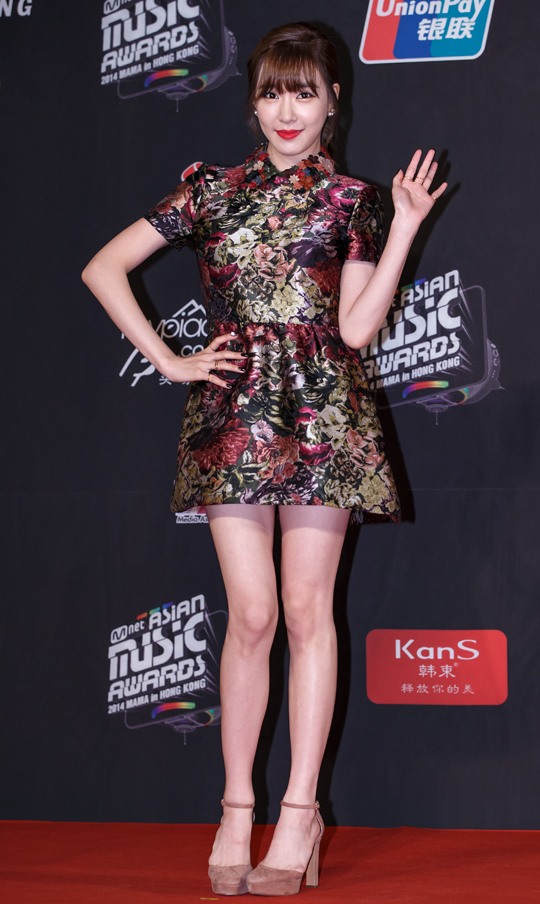 As we enter the last month of the year — December, all kpop idols swoons to award ceremonies to celebrate their achievements with their fellow fans. Our SNSD-award-receiver-and-international-girl Tiffany, once again, represented SNSD's sub unit to receive an award at the MAMA.
Instead of wearing cliche dresses with floor-dragging trains or with a deep-V plunge, Tiffany showed up on the red carpet with a cute bubbly smile and a fun, interesting floral Valentino dress. The cute brocade cocktail dress was decorated with a luxuriant floral print and a detachable leather collar sewn with intricate little flowers. The dress's distinct structure and the tulip skirt shapes up Tiffany's sleek figure and length of the skirt was just right and not too provocative, which helps to stretch out the lower body of Tiffany, making her look taller. The whole look was summed up with a classic finish of ankle-strap pumps.
Congrats to Tiffany and Taetiseo for winning a award and let's cross our fingers for SNSD for the year-end award ceremonies! And remember to vote for our next OTW poll too!