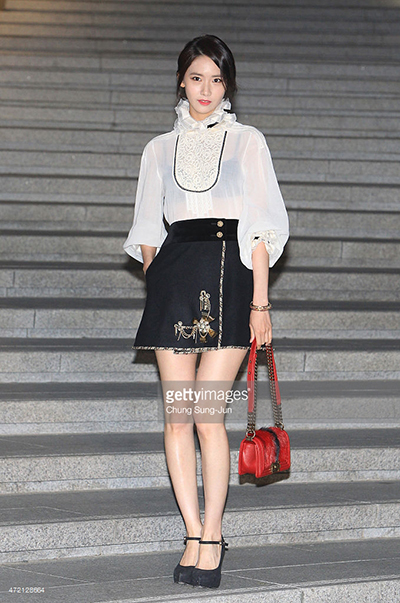 It's been a while since we have updated our choice of OTW, and this week we will be updating on our Stylist's Choice of it! *Drumroll*Our Stylist's Choice is none other than Yoona's outfit at the Chanel Cruise fashion show!
Do you remember at her previous Chanel fashion show, Yoona wore a simple Chanel dress to the event? For this occasion, Yoona took a different approach and wore a two piece outfit.
Yoona wore a graceful see through white chiffon blouse with embroidered detail in front and its collar surrounded by black velvet ribbon . The blouse's sleeves is also decorated with the same black ribbon, but Yoona chose to roll in the sleeve, making it look more puffy. To add some interest, she dressed herself in a contrasting black bra top underneath.Her skirt is a simple buttoned black dress. The edge of the skirt has gold brooches and pearl attachments, plus some embellished gold buttons, glamming up the skirt much.
Last but not least, the attire is completed with black strapped pumps and a red Chanel Boy Bag from Chanel's Pre-Fall collection.