Hello SoshiStyle readers! Sorry we've been away these past few weeks from "Outfit of the Week". A lot of things came up, but we're back in gear and happy to bring you your weekly dose of your favorite outfits! This week, after a double poll, Taeyeon and Yoona both took top honors for their airport fashion in their respective weeks. Let's take a look at each of their outfits!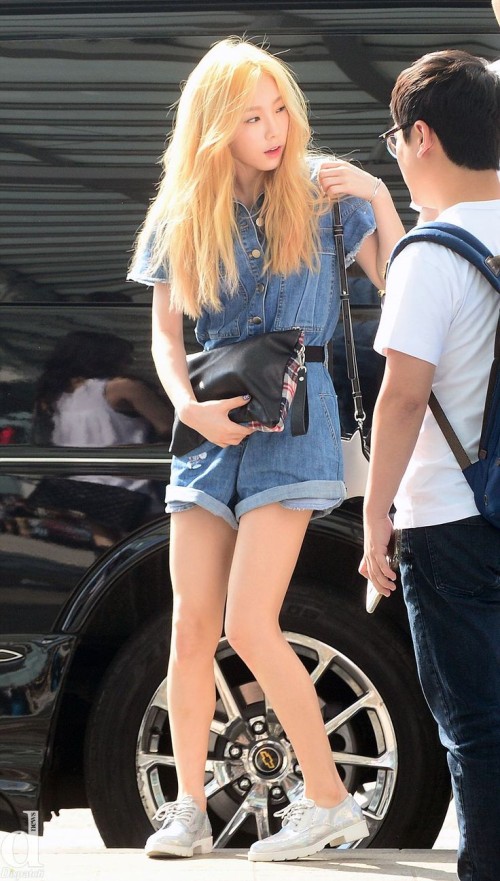 Despite being the oldest member of the group, Taeyeon once again manages to look several years younger with this cute ensemble. While several other members opted for shorts, Taeyeon went one step further and sported a cute stonewash denim romper, perfect for the coming summer heatwave(and no doubt a good choice for their trip to Thailand). Being a romper, there was not much else to the outfit other than a black belt. For shoes, she went with a pair of metallic oxfords, and unusually enough, had both a shoulder bag and a handbag. Hairstyle wise, blonde Taeyeon was back for the week, though her pink tips we saw on Instagram weren't yet applied.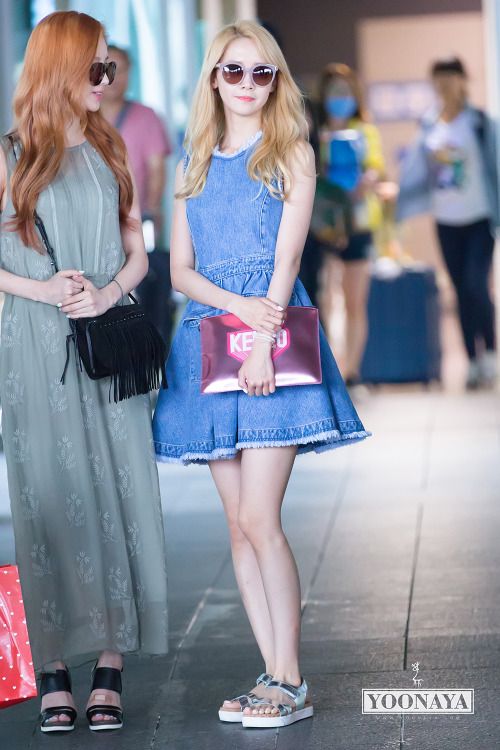 Notice anything familiar? Think maybe Taeyeon had a hand in styling Yoona? Hmmm. No matter, Yoona looked as fashionable as she did comfortable in her denim variation. Rather than a romper, Yoona sported a modest dress, though she did show quite a bit of her slender legs thanks to it's mid-thigh cut. The dress was a great choice for an airport outfit, as it's reasonable length and comfy material no doubt helped on the hours long flight. Her metallic sandals likewise are perfect for traveling. For accessories, she carried a dark pink bag and wore a pair of light pink Lolita sunglasses.
Thank you again for joining us for Outfit of the Week, and as always, thank you for voting!
Image Credit: Dispatch, Yoonaya