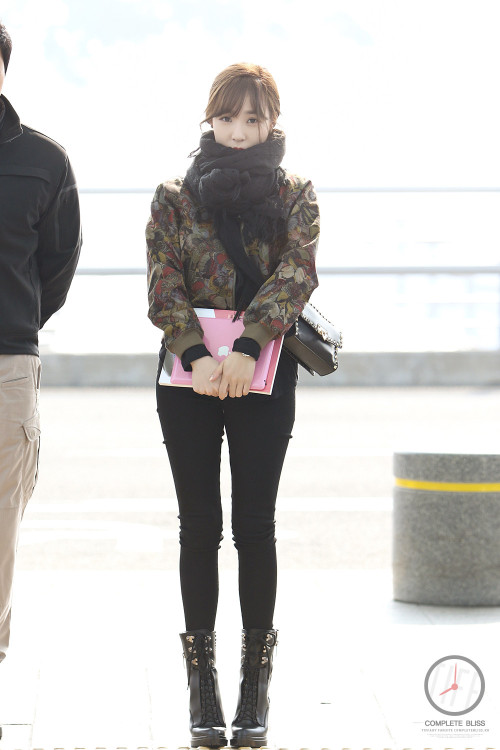 Hi readers! First off, happy belated birthday to Sooyoung, who is currently getting ready for NY Fashion Week(so jealous!), and hopefully had a wonderful time celebrating in the city that never sleeps. Moving on to this week's outfit of the week, we have Tiffany's airport outfit headed to the Valentino store launch in Hong Kong winning your hearts, or at least your votes. Let's analyze!
Given her aforementioned association with Valentino heading to the airport, it's no surprise that she showcased a few of their pieces in this cold-weather outfit. Both the subdued floral print jacket and clutch purse are both Valentino, and unsurprisingly, are two of the biggest attention grabbers in the whole ensemble.  Dark tones dominate the remaining elements of her wardrobe, with both her jeans and boots being black. Accessory wise, shes' got the clutch purse and an adorably wrapped scarf, as well as a pair of very full hands. The outfit overall gives a very stylish-yet-practical vibe, and given the temperature in Seoul at the time, it's for good reason.
Congratulations to Tiffany for this week's Outfit of the Week, and thank you all for voting!
Image Credit: Complete Bliss.kr