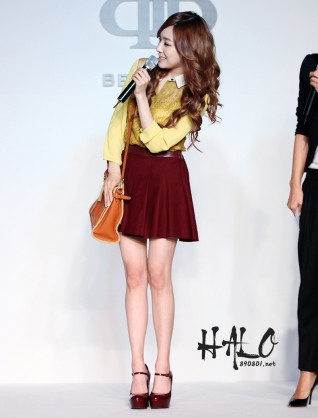 This week, the other half of the English speaking team, Tiffany, took home the honors of having the best outfit with this number she donned for the Bean Pole Accessories "Styling Class" event. Up top, she layered a Faith Connexion lace blouse over a yellow oxford, providing a sophisticated school-girl type look that continued to the rest of the outfit.
Around her curvy waist was a burgundy Carven mini skirt, hiked up a bit to showcase her famously slim and milky-white legs. She finished her outfit with a burgundy patent leather Mary Jane platforms, as we all know she can't be without her heels.
Finally, as this was a a Bean Pole Accessories event, she carried around a sponsored Bean Pole Accessories brown leather shoulder bag, again reminding many of a stylish schoolgirl, punctuated by her lusciously curled hair.
Congrats to Tiffany for making it 2 weeks in a row that the "California Girls" have taken home the prize!