The Girls' Generation and Chanel love affair have been going on for quite some time. From the first time they met through the girls' magazine shoots, their relationship has then blossomed to a point where both parties are inseparable. We see Girls' Generation with Chanel items such as bags and shoes most of time when they're in the airport. Although these classic looks are beautiful, here at Soshi Style we can't help but select Chanel runway looks that would best fit the girls. We hope to see these Chanel pieces worn by the girls in their upcoming special appearances/events and in the airport!
*Please note the Chanel dress is being referred for SNSD, and not the complete ensemble
Chanel Runway Looks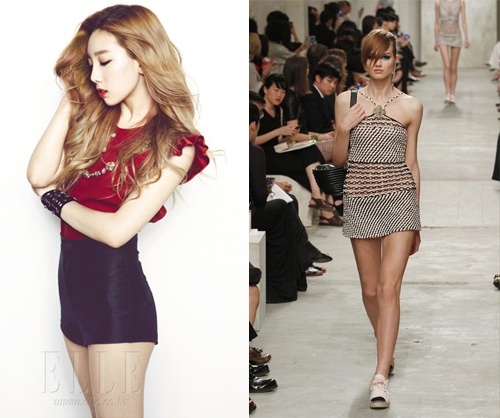 Taeyeon: Resort 2014 Collection
Taeyeon has been experimenting with her sexy-side lately. From navel-baring crop tops to see-through sweaters, Taeyeon definitely wants to emphasize her being a woman. This mini-dress from Chanel's Resort 2014 collection is both classy and exciting. With it's length perfect for Taeyeon's height and the intricate embellishments add more elegance to the dress' fierce style, with it also being very wearable for different hair and make-up styles.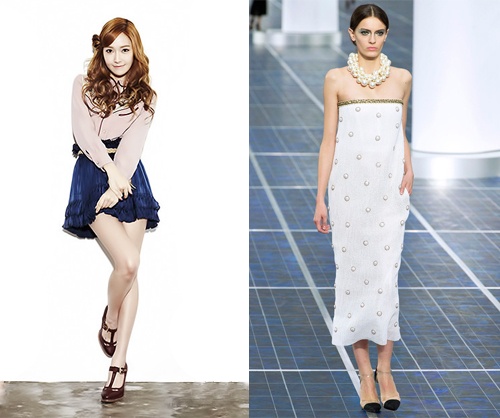 Jessica: Spring 2013 Collection
Jessica can pull-off anything as the renowned fashionista. This look from Chanel's Spring 2013 line will make her the muse to all artists. The dress is very clean and elegant, perfect as a canvas for more vibrant accessories. The look is very versatile, giving the freedom of proper alterations and a wider range for hair and make-up. Jessica can also choose to grace this dress during a day or night event.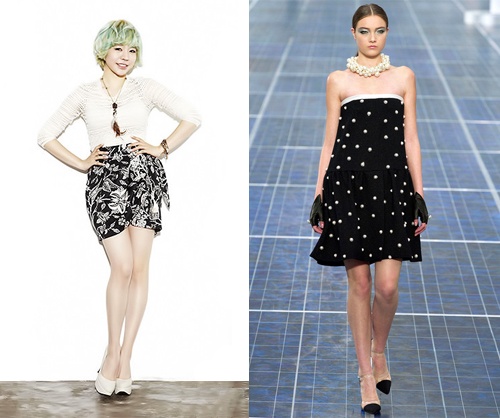 Sunny: Spring 2013 Collection
A perfect ensemble for Sunny would be something sweet and youthful. This shorter Chanel Spring 2013 dress flows perfectly and fits Sunny's petite figure. It's color makes it easier to match it with colorful accessories. The pearl embellishments are more visible, giving off a very vintage Chanel feel. Although this dress is perfect for night events, Sunny can wear this dress with edgier pieces/accessories to make it fit for the night.