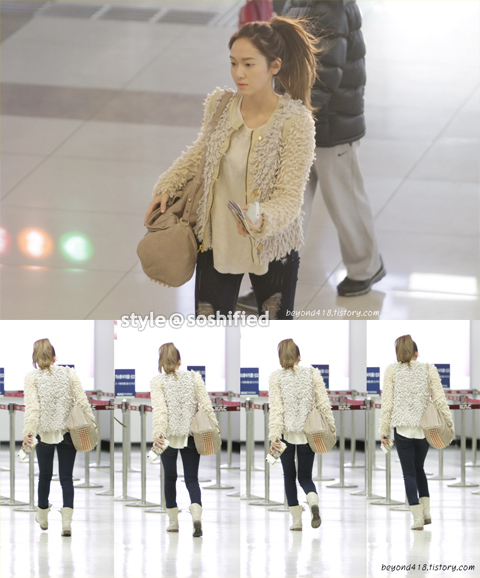 With the arrival of winter, it's inevitable that jackets, boots, and scarves will be dominating our closets for the rest of the year. And that just means we can expect our girls donning the latest trends in outerwear and bundling up in style.
For instance, Jessica geared up for the cold while on her way to Japan for the recently concluded FNS Music Festival. While she was always seen wearing blacks and grays, she decided to go in the opposite direction and dress up in neutrals and whites. She paired a basic off-white t-shirt with a Rag & Bone jacket. The color scheme definitely made it easy on the eyes. For her bottoms, she wore a pair of ripped jeans in a darker wash that aimed the spotlight to the upper half of her outfit.
We would like to note that Tiffany also had a similar jacket, only it was longer and in a different color (seen here). However, we favored Jessica's more in both aspects.
What probably sold this outfit is the way Jessica matched her boots and Alexander Wang bag with the jacket. She made sure not to let any other parts of her get-up overpower the jacket and let it do all the talking. The whole look looked rugged and comfy despite how styled and detailed everything was. We also have to credit Jessica's messy ponytail and makeup-less face for the perfection of her look.
Image Credit: beyond418