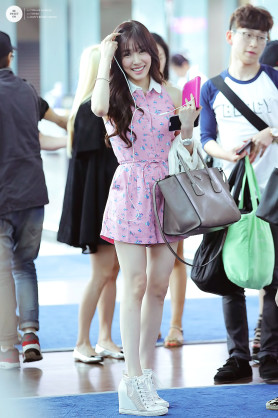 While at Incheon Airport, Tiffany took time out of her busy schedule to sweep us here at SoshiStyle off our feet with her wonderful outfit!
Starting with the focal point of the outfit, Tiffany donned a pink sleeveless romper adorned with blue ribbon print, channeling a young Bohemian-esque look right off the bat. With the romper terminating mid-thigh, she could show off her famous toned milky-white legs. Going further down those legs, we find her feet adorned with a pair of DKNY high top wedge sneakers, giving her the extra height she needs to look like a fashionista as well as being infinitely more comfortable than heels. Lastly, as she's the kind of gal never to be without her bag, she opted to bring along a clay gray Prada bag to carry her miscellaneous idol goods in.
Congrats to Tiffany for having this weeks Outfit of the Week!
(Items mentioned can be purchased here)
Image credit: Be Sweet On