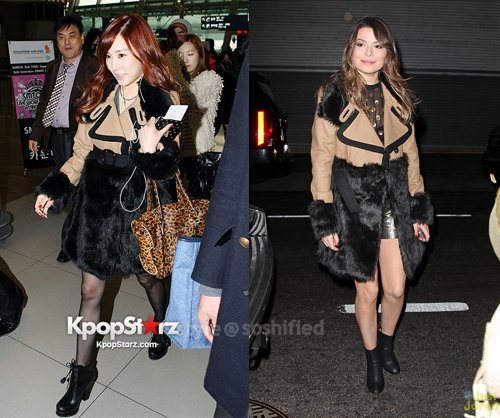 Coincidentally Miranda Cosgrove and Tiffany was spotted wearing the same Juicy Couture Faux Fur Coat last November 22, 2012. Tiffany even advertised the same coat for High Cut Magazine, Volume 90. How 'bout that? They practically wore it at the same time! Great fashionistas think alike!
Tiffany was spotted in Gimpo Airport wearing the coat deciding to keep it closed for warmth against the cold. A simple necklace and a basic gray shirt was paired with the coat as not to over shadow it. She added black stockings as well as a leopard bag. Tiffany's choice of bag may not be at par with the over-all outfit, disregarding it will be a good opponent against Miranda.
Meanwhile, Miranda Cosgrove was spotted in New York City about to go to a live interview with Jimmy Fallon. She wore a Suno Dotted Sequin Top and Alice + Olivia Metallic Shorts to her interview outside the studio. To compliment her inner outfit she opted to wear the coat open to show it off.
Both artists wore red nail polish that added a pop of color to their outfits as well as boots for footwear. The coat in general is very hard to wear without making it look like it's wearing you out. Especially for the people who have curvy figures that would most likely make them look bigger by wearing faux fur.
Who do you think wore the coat best and gave it justice?

Loading ...