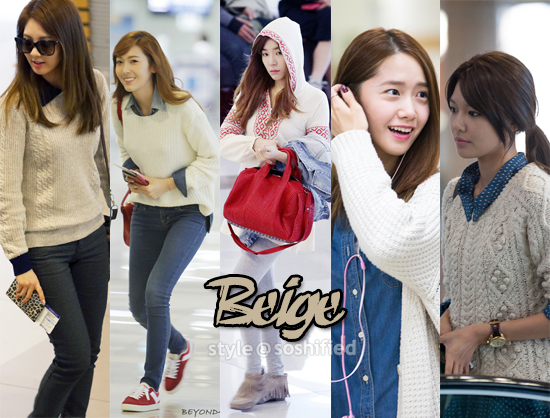 chunyoon, beyond418, halo, thedarling, withsosi
'Girls' Generation make you feel the heat!' With winter just around the corner, our nine girls already transformed their wardrobes to winter apparel. It is definitely a hard choice for us to choose which outfit is the best with so many variations of outerwear.
Seohyun, Jessica and Sooyoung opted for blue shirts inside the sweater, with the collars popping out. Seohyun chose to wore a pair of over sized sunglasses to finish off her look while Jessica had bare face with minimal makeup and a pair of Pony sneakers. Sooyoung on the other hand paired her sweater with a blue polka dot shirt and wearing a classic watch.
Yoona also wore a blue demin shirt, but she settled upon wearing a beige knit Cardigan instead of a pullover. Yoona added a playful, young touch to her look wearing her pink Miu Miu shoulder bag.
Unlike the others, Tiffany tried a bohemian-styled outfit. She wore Free People's Capetown Pullover and finished the look with simply a pair of jeans and moccasins. Her red Alexander Wang Rocco bag also complimented the details of the pullover.

Loading ...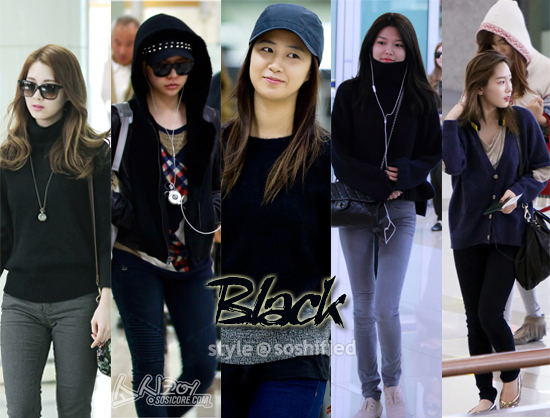 hyunhock, soshicore, ready? action, withsosi, ccanjuk
Our mature maknae Seohyun wore a black puff-sleeved blouse with a contrasting pendant. She carried her Quilted Floral Handbag which contrasts with her plain black silhouette.
Pixie-haired Sunny decided to match her outfit with her boyish hairstyle. She wore a leather hoodie with fur under layers to keep her warm with a checkered t-shirt underneath. She finished her incognito look with a studded cap and a pair of sunglasses.
Yuri and Sooyoung both wore a black sweater but with different styles. First off, Sooyoung recurrently showed off her long legs by wearing slim-cut jeans, this time she even wore a turtle neck sweater which elongated her tall figure. Yuri, looking quite bright and cheerful, wore a two-toned sweater with a cap and no make up at all, with her natural beauty dazzling off camera lenses.
 Last but not least, our choding leader Taeyeon wore a elbow-patched-dark-blue cardigan with a beige shirt. Finishing off with a pair of glitter flats. But her white complexion with red lips lured most of the attention, some netizens say did Taeyeon stole her mother's lipstick to put on.

Loading ...