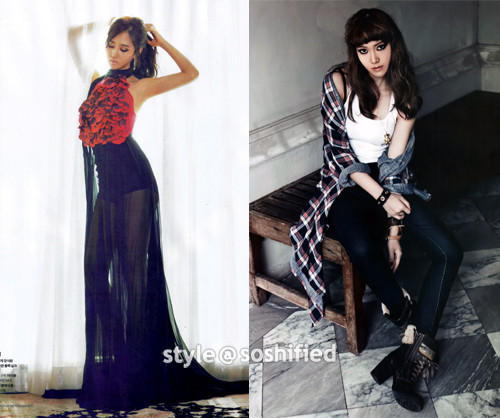 Outfit of the Week respectively goes to Yuri and Jessica's recent magazine spreads!
Yuri leaves us speechless in this amazing Gucci gown, the gown along with her wavy ponytail and tanned skin exudes a latina feel to it. This exotic look is accessorized with gold drop earrings showing us Yuri in a refreshing look.
In the new issue of Marie Claire, Jessica exudes a "rough & ready" aura in each of her outfits. This particular shot showcases how something so simple can look so fierce. Minus the boots and flannel shirt, her outfit is nearly as simple as the white tee and jeans look the group showcases in "Gee". But with addition of both of those items, and some eye-popping eyeshadow, alongside the gaze she's famous for, the Ice Princess herself looks like she's ready to hit the woods instead of the town.