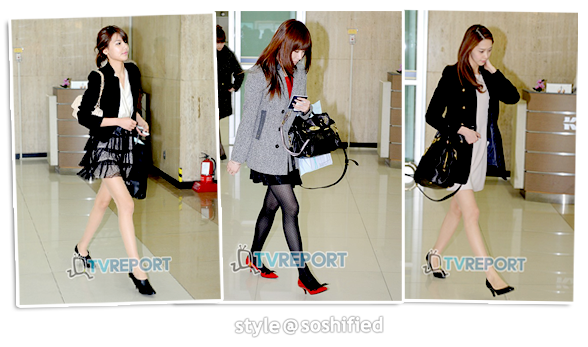 This weeks Outfit of the Week goes to Sooyoung, Tiffany and Yoona with their airport fashion. The girls had recently returned from Japan and strutted down the Gimpo Airport in their 'airport fashion', SooYooNy in particular were looking extra fashionable:
Sooyoung wore a cute dress where the layered skirt part showed off her enviously long legs, to top it off she wore a black blazer and carried a nude Chanel bag to give off a classy feel.
Tiffany had said that she took a liking to the color red and as a result we can see that it looks great on her. She wore a simple red blouse with a black skirt and matched it with a pair of cute red Prada pumps. The large coat put everything together making her look adorable!
Yoona had on a more simple outfit compared to Tiffany and Sooyoung wearing a nude dress and black coat. She worked it with her beautiful long (and still growing) hair and a fashionable purse giving it a more sophisticated business look.
I'm excited to see the next time they go to an airport!