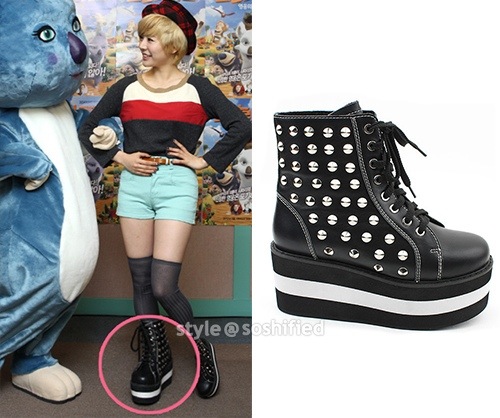 To start of 2013, we have a newcomer to the Hit or Miss victims list. This time it's Sunny, who was photographed wearing Black Studded Sneakers from ShoeSone at the recording of Koala Kid: The Outback.
These sneakers are really a love it or hate it item due to the exaggerated chunkiness of the soles, which may remind many of the McDonald's clown's iconic shoes. With Sunny being so petite, these high tops seem overwhelming for her body size. Fortunately, she has managed to avoid committing a catastrophic fashion crime since the rest of her outfit is nothing out of the ordinary.
Those of you who disagree may find Sunny's sneakers edgy and unique. The studs do add fierceness and eccentricity to her overall look, but still, the shoes seem like a little too much.
What do you think of the sneakers?

Loading ...