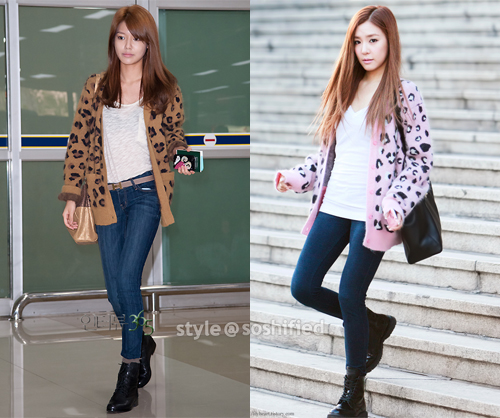 At the Gimpo Airport, back from Japan, Sooyoung was first spotted with this Chloë Sevigny for Opening Ceremony cardigan. As she sauntered with her black lace up boots, she wore this jacquard knitwear over a flimsy white round t-shirt and paired it with faded skinny jeans with a Hermes belt. To complete the outfit, she carried her Lanvin bag which matched with the cardigan's color.
After the recording of KBS Love in Asia, the same cardigan was seen with Tiffany, but in a different color (her favorite color– pink!).  She also donned a white t-shirt  but she preferred it in v-neck and left it untucked which hugged her hips and her legendary legs with skinny jeans. She ambled with her Chanel tote which contrasted her cardigan and lace up boots which exuded a different style.
Despite the similar styling, the two outfits somewhat showed their individuality.
How about you, which ensemble do you prefer?

Loading ...