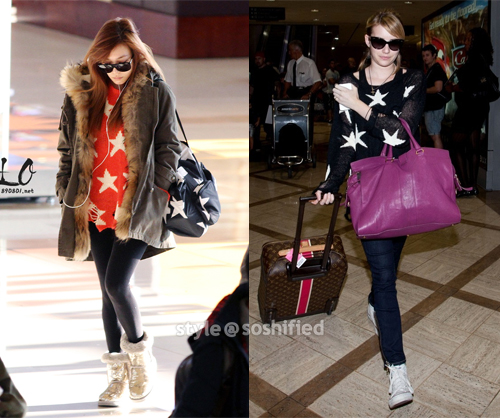 Two avid book lovers go head-to-head with their sense of airport fashion!
First off is California Girl Tiffany, who was recently seen wearing the Wildfox Couture 'Seeing Stars Lennon Sweater' last November 13, 2012. Here, she layered the red sweater with a Maje fur coat, wore black tights to hug her legs and wore very bright and cozy sequin ugg boots.
To match the star print of the sweater, she paired it with her Adidas Patch Star Holdall Bag and simple sunglasses/shades. Given the cold weather, Tiffany had to stay warm by layering pieces and covering up her body, while she  keeps her hair down to flow on her shoulders and gives a very natural look.
Next is New Yorker Emma Roberts, who was seen at the LAX Airport last August 3, 2012. She wears the same sweater but in black, she also layers it with a simple black hoodie jacket and chose to wear skinny denim jeans.
Emma keeps it casual with a pair of white Converse Hi Sneaker shoes and simple black sunglasses/shades, opting for high end accessories – a purple Yves Saint Laurent Cabas Chyc Bag and a personalized Louis Vuitton Pegase Suitcase. Make-up free, Emma finishes her airport look with a very messy bun, probably due to her long flight to Los Angeles but still maintains her composure.
Both stars have their ups and downs with this look, but who wore the starry sweater better?

Loading ...