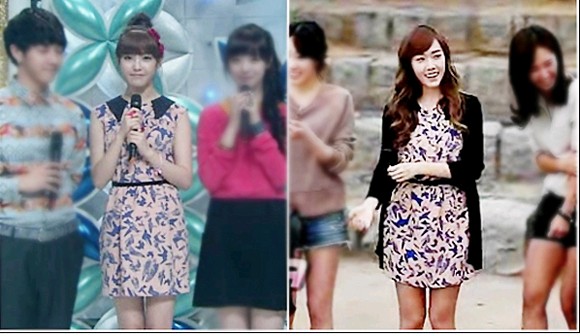 When people found out that Girls' Generation's Jessica and solo artist IU wore the same outfit in the past, it instantly became a hot topic.
In the photo, both are wearing the same one-piece dress.  However, both bring out a very different aura. Jessica on one hand appeals to a more sophisticated look with her long, wavy hair, whereas IU, who had her hair up in a bun while wearing a large headband, gave off a very cute feeling.
Jessica wore the dress when she appeared on SBS's variety show "Running Man", while IU wore it while she was the MC for the music program "Inkigayo".
Netizens commented on the similar fashion by saying things like, "The feel of the dress is completely different when you compare Jessica and IU", "Both of them are so pretty. I think both look good, no matter what they wear", and "This dress is going to be completely sold out because of them."
So, in your opinion, who wore it better, Jessica with her sophisticated charm, or IU with her cute "girl-next-door" charm?

Loading ...
Source: Zaikei Japan
Written by: SeraphKY@soshified.com
Edited by: residentbenchwarmer@soshified.com