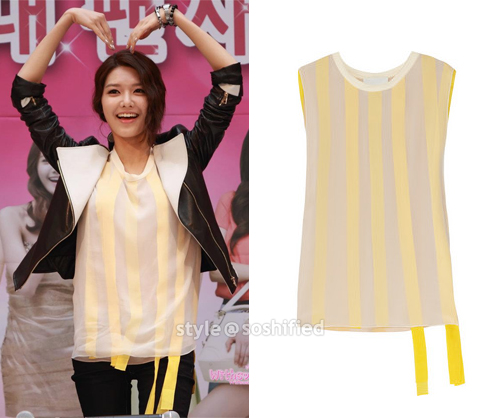 Review on 3.1 Phillip Lim Ribbon Silk Chiffon Top as seen on Sooyoung.
We all know that Sooyoung is one of the fashionistas of SNSD. When I saw her wearing this ribbon silk chiffon top by 3.1 Phillip Lim, I was drawn by how unique and interesting it was. Phillip Lim plays with balance and symmetry by making the ribbons longer on one side. The hanging ribbons give the shirt a quirky feel and therefore, are the main details.
The material really is 100% silk (just the trimmings are cotton), so the shirt feels fine and delicate. The fitting is boxy/straight, which adds to the cool and casual theme of the piece. Someone who prefers curve-hugging and girly designs might not be satisfied with this shirt.
The only complaint I have is that the ribbons constantly move around, so they don't stay perfectly in line. They often stick to each other and 2 different ribbons become one. It can be quite a hassle to arrange them frequently but its uniqueness and fine quality make up for it.
I would really recommend this piece by 3.1 Phillip Lim as long as you're willing to sacrifice comfort to arrange the ribbons. It is a shirt that screams "designer" and "expensive". People passing by will take a moment to look at this shirt because it is peculiar in an interesting way.
Rating: 4/5
You can buy the 3.1 Phillip Lim Ribbon Silk Chiffon Top here.