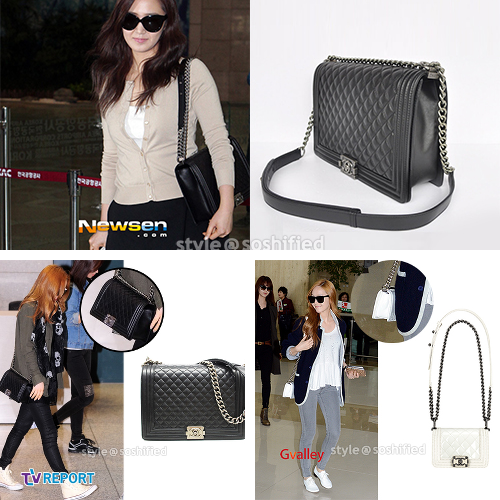 Review on the Chanel Boy Bag as seen on Jessica, Yuri, and Taeyeon
Chanel has been an increasingly popular bag choice for the girls as seen during airport appearances. The French label has many known classic designs such as the 'Classic Flip Bag' and the 'Boy Bag.' and as such, I will be reviewing the latter. If you haven't purchased a luxury bag yet, this might be the one for you!
The Boy Bag comes in a variety of sizes, small, medium and large. I suggest to you that you should try on the bag first and make sure the size suits your body type so it's not too big or not too small. I had the chance to try out the bag in medium python skin (there was only two in the whole of UK) but I passed the bag after seeing how big it was on me after I tried it on. The bag also comes in diverse styles and colours. You can have the bag in the original classic leather, or you can have the middle of the bag be in a 'weaved' style, you can also have it in different skins like python or stingray. I got mine in beige leather and I highly regretted it because I didn't do enough research and there were way better and more unique Boy bags out there so as my warning to you, make sure it's the right colour and right skin you want!
The Boy bag is either made in France or Italy (mine is made in Italy). The bag is made out of lambskin however depending on which Boy you buy, the leather and the skin you chose may be different. A major contributing factor as to why I bought this bag is it's weight. Compared to my Hermes Birkins and Kellys, the Chanel Boy is literally a feather partly because the interior of the bag is not leather.
The bag itself is very versatile and can be worn in many different ways. For example, you can sling it across your body, or you can just casually sling it around your shoulder. In addition to it's versatility, this bag can be used for almost any occasion. It can be worn casually to the mall or it can be used to go for formal events (if it's in size small). To open the bag, you press the two 'buttons' on each side of the silver clasp. This can prevent pick pockets who may not realize the discreet way of opening the bag. Another way to prevent pick pockets is to turn the bag the other way round (so that the logo is facing your body).
When you aren't using the bag, make sure to keep it at an upright position in the dust bag which will come with it. There is a booklet that comes with the bag to show you how to care for the bag correctly.
Drawbacks: 
One of the biggest drawbacks about this bag is the interior of it as mentioned previously. For the price I'm paying, I would expect the bag to be fully leather but it is partly my fault as well as I didn't bother checking beforehand. However this might be a highlight for others as it doesn't make the bag too heavy.
Another major drawback is that you can't fit many things inside. i bought the bag in the smallest size and you can only fit so little things inside. A phone, a tiny wallet, and a few small makeup products would fill the bag up completely. I usually don't even use a wallet whenever I carry this bag. However, this does make the bag very useful for formal and black tie events. Furthermore, I can't carry this particular bag when I'm wearing jeans. If you bought the bag in a light colour, like mine, try to avoid wearing it with clothes which colour will fade. It will eventually rub onto the bag and the bag will not be in it's original colour anymore.
In addition to all of that, the price would definitely  be a major turnoff. I bought mine for around £2300, but even so, Chanel's bags are definitely worth investing so if you're still undecided, I suggest you to grab one quickly before Chanel marks up their price in the next year!
All in all, the boy bag is a very versatile bag and if you're looking for a luxury bag to invest in, I would recommend this piece just make sure not to cringe at the price!
 Rating: 3/5
 You can purchase the bag at your local Chanel store.