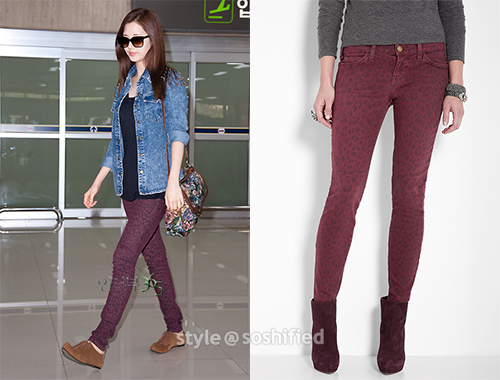 Review on Current/Elliott's Leopard Skinny Jeans as seen on Seohyun.
When I first saw one of the girls wearing this particular jeans, I immediately knew I had to get one. The leopard print of the jeans make it a statement piece and can be paired with almost anything! The jeans are 90% cotton and 6% polyester and 4% elastin and is made in the United States.
The jeans are made in a skinny fit so for those who want to show off those legs, this jeans is a must have. For different seasons, the jeans come in different washes (colours) I got mine in Indigo leopard (which is just a fancy name for medium washed coloured jeans) at my local Harvey Nichols. One of the huge factors as to why I bought this jeans was its comfiness. As a person who travels a lot and lives in a conservative country, I found these jeans just right! They are so comfortable and if you're always stuck in a long flight, this jeans is definitely worth spending your money on. They stretch very well and provide the utmost comfort.
Drawbacks:
One of my pet peeves of this jeans is the length of it. The jeans are supposed to be worn with the ends of it rolled up to your ankle. If I don't roll the folds up, it is way too long for me, (it appears too long for Seohyun as well). Sometimes, I like to wear my jeans exactly cropped at the ankle but this jeans does not allow me to that. If you do like your jeans rolled up though, this pair of jeans would be fantastic for you! Do be careful when you wash these jeans though because the colour does leak and come out so try not to mix it with light colored clothing when you wash it.
Otherwise, I do not have any other complaints about these jeans. They're stylish and comfortable, a must have in a girl's wardrobe, I dare say.
Rating: 4/5 
You can purchase the jeans here.