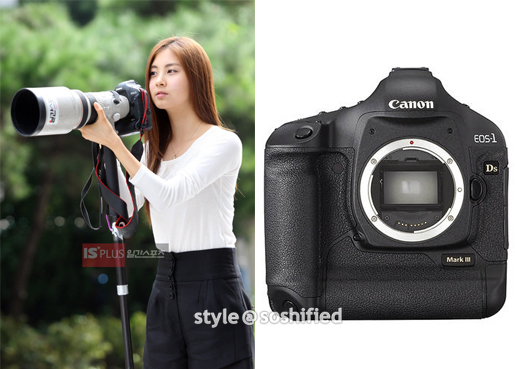 Review on Canon EOS 1Ds Mark III as seen on Seohyun.
Arguably one of the most expensive pieces of technology a member has ever been spotted with, the Canon EOS 1Ds Mark III(hereafter referred to as the Mark III) was up until recently, Canon's flagship full-frame dSLR, holding the title for a whopping 4 years, before being succeeded this year by the Canon EOS 1D X. Even with the release of the 1D X, it is likely this camera will continue to be utilized by photographers thanks to it's considerable power, even by today's standards.
I will start by staying this: this is not a camera for those wanting to get into photography.  You will not find an "Auto" mode, or any sort of "Scene" modes commonly found in consumer-targeted cameras in the Mark III, nor will you find a video mode. This camera was created and marketed to those who require the best of the best in quality, and know how to achieve that quality without the need for "Auto" mode…and also probably have a stable of L-lenses, as well. (L-lenses, for those of you who are unaware, are the top-of-the-line lenses put out from Camera, ranging in price from $600 for the 17-40 f/4 L to $100,000[!] for the 1200 f/5.6 USM)
Moving on to the camera itself, it's apparent that it was built for professional photographers, and not amateurs. Weighing almost 3 pounds without a lens, and weather-sealed to the brim, the Mark III was built to withstand all but the harshest environments. This camera wasn't made for shooting kids playing soccer, unless said kids were playing soccer in a torrential downpour in the Costa Rican jungle with 90% humidity. This is the model, and other flagship models from Nikon and Sony, are the cameras you typically see on the sidelines of football and soccer games, no matter the condition, as they are able to withstand any sort of weather with no degradation when it comes to image quality.
The tech specs, which are really what we're reviewing, are still impressive even by today's standards. With a 21.1 CMOS full-frame sensor, the images it produces are nothing short of breathtaking, and would easily be able to be blown-up to poster, or even billboard size, with all the fine details still intact. The sensor was touted upon it's announcement as one of the fastest in the world, and at 5 FPS(frames per second), you would be hard pressed to miss a shot with this, even in fast-paced sports events or concerts. Speaking of concerts, as many who have shot concerts in low-light know, the ability to control noise at a high ISO is one of the hallmarks of a good camera, and the Mark III doesn't disappoint. While I wouldn't take many cameras up to 3200 ISO unless I was really desperate, I have almost no trouble pushing this one that level, knowing that I'll be able to salvage the shot quite nicely. Being a full-frame camera, you'll also be able to utilize the "true" focal lengths of the lenses, with no cropping from the sensor, making this camera ideal for those who shoot landscapes or large-scale scenery.
Now for the cons. Let's start with the biggest one: $6,300, new. That is not an easy sum to swallow for all but photographers who need the absolute best, or those who are able to make $6,000 purchases on a whim. The next con is a plus for photographers, but a con to 90% of people who think this is like say, a Canon 7D, 6D or T1i. This camera was created exclusively for getting the best images possible, and nothing else. You will not find an articulating LCD screen, a movie mode, a mode dial, or even a pop-up flash, as Canon expects those at this price range to be familiar enough with cameras to not require any of those, or in the case of the pop-up flash, they expect you to already have an external flash like the 580 EX II or the 430 EX II. Keep in mind this is a camera that was released in 2007, so it isn't exactly groundbreaking compared to any of today's releases like the Canon 5D Mark II, 7D or the upcoming 1D X, and if you used any of those, you'll notice that the Mark III is missing several features, such as a high-resolution LCD screen(this one tops out at 230K, while the 7D boats a 920L resolution screen, as well as the ability to shoot 8 FPS), streamlined menu screens, and more. Also, while this may come as no surprise to camera savvy folks, there is no lens included with the camera. But if you have the money to spend on this, and are a photographer, you've probably got a bevvy of lenses, anyway.
Overall, though it's recently been succeeded by the 1D X, if you absolutely must have the best image quality you can afford in a Canon, and don't mind losing out on some new age features, the Canon 1Ds Mark III is highly recommended. If at any point in the review, you thought "I don't think I can live without that feature" or "I don't know what he's talking about", please either invest in a Canon 7D or a lower-tier model, as those are much more forgiving and suitable for the average consumer, and SNSD, as well. How Seohyun managed to use this, if she really did, I have no idea, and I commend her if she had the photographic knowledge to utilize it.
Rating 4.5/5 (5/5 if you are a professional photographer and own one of these)
Note: For those curious, the lens she is using is the Canon 300 f/2.8 L USM. This is a prime lens, which means it does not zoom, and requires you to carefully line up your shots knowing that you are unable to zoom if your subject moves out of frame. However, it makes up for this with a fast f/2.8 aperture, allowing for impressive low-light performance, and a creamy bokeh. Matched with the Mark III, Seohyun had in her hands a journalist's dream set-up, and would not be out of place shooting a concert or a football game. Note also that the lens alone cost $6,000, almost matching the Mark III itself.

You can purchase the Canon 1Ds Mark III here, and the Canon 300 f/2.8 L USM lens here.