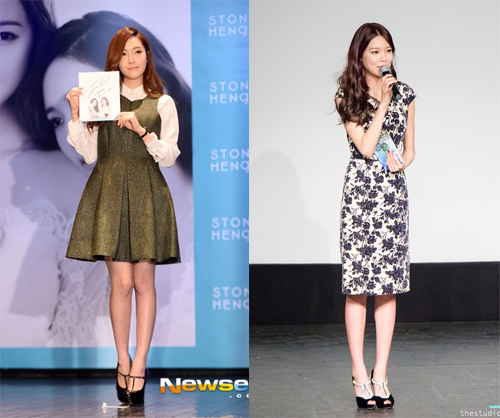 After a few "slow weeks", the members had such a good showing this week channeling their inner fashionistas that we have not one, but TWO outfits that we feel are deserving of mention.
Stepping out at a STONEHENGE sponsored fansign, Jessica showcased a lovely deep green knee-length dress that perfectly accentuated her slim legs and well-proportioned torso. Under the dress she wore a feminine Oxford style blouse, essentially making it a two-piece ensemble save for the shoes. Her shoes were black heels, adding some height to one of the shorter members of the group, and her famous hair was done in a tasteful parted style with a slight wave to it.
Sooyoung on the other hand, opted for an even simpler look, consisting of just a dress, with no shirt underneath, or needed for the manner. But the dress didn't it, anyway. A beautiful blue-on-cream piece, the dress accentuated her body to such a degree, it made her already statuesque figure look even taller (shocking, I know!), possibly even tall enough to walk the runways of Milan or London. Added on to that, her black heels with gold accents probably added another 3 inches, making her, well, I'm sure she turned some heads that day with her height and figure!
Congrats to both members on their winning outfits!
Image Credit: Newsen, Thestudio.kr