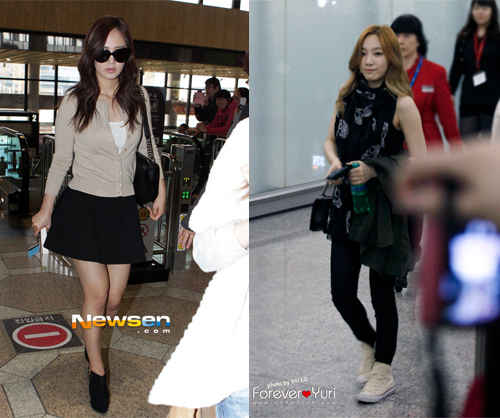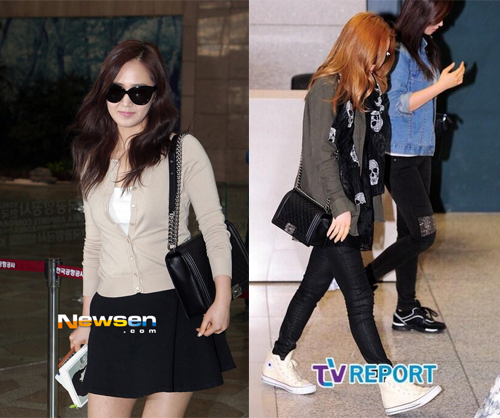 Our kid leader and black pearl were recently seen accessorizing their personality matching outfits with a Chanel BOY Flap Bag. Now both girls are in the fight of the fiercest!
Yuri used the Chanel bag on March 25, 2013 at Gimpo Airport on their way to Osaka. She decided to match the bag with soft and feminine pieces. Yuri wears neutral colors with the bag, which consisted of a white inner tank top, beige fitted cardigan, and black skater skirt. To spice things up, she wears a pair of killer heeled ankle boots with gold zipper details. Yuri finished the look off with a pair of cat-eye shaped sunglasses. For hair and make-up Yuri keeps it minimal, letting her curly hair down while having dewy skin with glossy lips.
Taeyeon who used the Chanel bag last March 22, 2013 at Incheon Airport chose to mix up the classiness of the bag with edge. She wears a khaki green blouse as outerwear, black skinny jeans, and a pair of Converse Hi-Top Sneakers. For other accessories, Taeyeon wears a black H&M skull print scarf and a pair of square-shaped sunglasses. Like Yuri, she lets her loose curls fall on her shoulders and has natural looking make-up, choosing to feature her perfect skin and adding glossy lips for color.
Who's look stole your style heart? Vote and share your thoughts!

Loading ...
Image credit: Newsen, TV Report and Siu Lo