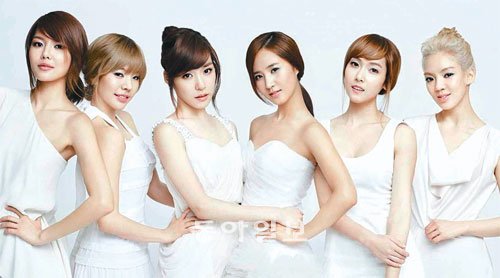 Girls' Generation: "Carefully Apply Sunscreen When You Go up on Stage"
Many women are jealous of Girls' Generation members' clear, white skin. Girls' Generation members, who are Dior makeup models, stress on protecting their skin from sunlight and putting on natural makeup.
Yuri is a BB cream user. Whether she's going on stage or out, she always puts on BB cream. This is because the stage lights are so strong that ones skin can become easily dry and worn out. Yuri said, "BB cream is the best, making your skin tone beautiful while also playing the role of sunscreen, protecting your skin from UV rays."
Jessica never forgets to put on sunscreen at the end of putting on makeup base. She prefers smooth, moist products over sticky ones. She said, "Lightly putting on whitening products, like lotion, seems to make my skin tone brighter."
Sooyoung enjoys using compact to clean up her skin naturally. This is because compact can give a heavy appearance if clumped. Sooyoung said, "I like using compact because it gives a light appearance, as if you didn't put any on. When fixing my makeup, I use a brush for a light touch up."
Although Girls' Generation members' ways of taking care of their skin isn't special, they do take care of and look after their skin daily to prevent blemishes and protect it from UV rays. With the start of summer, Dior prepared products that will help women if used.
'Dior Snow UV Shield BB Cream SPF50-PA+++ White Reveal UV Protection' (30mL) covers blemishes and gives a soft/light appearance. The specialty of 'NEW-Dior Snow UV Shield SPF50-PA+++ White Reveal Moisturizing UV Protection Pearling White' (30mL) is that it's smooth and moisturizing. The red pearl helps the skin tone, while the silver pearl gives a bright appearance. The 'New Dior Snow Light Veil Compact Foundation SPF20-PA+++' (11g) can be applied lightly and smoothly.
DiorSnow products can be purchased here
Source: http://news.nate.com…/20110527n01789
Translated by: ch0sshi@soshified.com
Contributor: residentbenchwarmer@soshified.com
Have a news item that you think Soshified should know about? E-mail us at tip@soshified.com.
Follow us on Twitter: http://twitter.com/soshified for the latest on Girls' Generation.