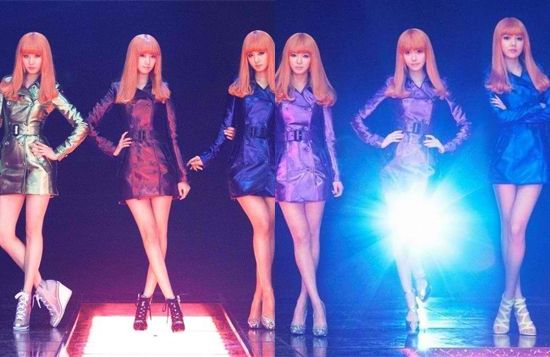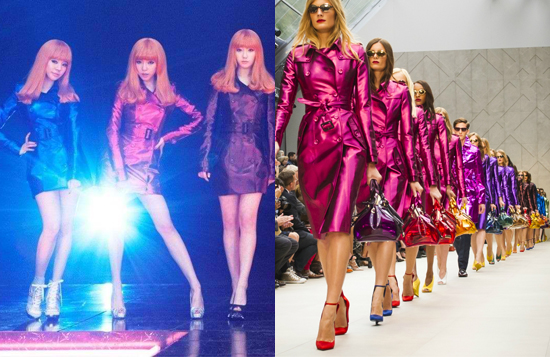 With millions of fans waiting for a comeback, Girls' Generation started the year with a revamped style and image. With a mix of brands such as Vivienne Westwood and Lazy Oaf seen in their music video, it was the use of Burberry Prorsum that had mixed reviews. The colorful metallic Burberry trench coats make their first appearance during Tiffany and Taeyeon's powerhouse solo part with members wearing different colors of the trench coat, pairing it with orange fringe wigs.
Good highlights of this particular choice of outfit could perhaps be that it shows that the girls' new approach in fashion and style. The outfit particularly symbolizes the girls losing their 'cute and girly' image, finally migrating into a more mature look. Furthermore, the trench coats highlight their silhouettes due to the by cinching their waists.
However, it seems that in this case the negatives of the outfit outweigh the positives by a wide margin. The styling of the look are far too identical, the girls may be wearing different colors of the coat, but the matching wig and even make-up makes it hard to determine each member.
Another would be the length of the trench coat, the original length makes it look sophisticated and modern as seen in the runway image above. In the music video, the coats however are cut to a mini length, making the trench appear tacky and cheap, and losing the original sophistication of the coat.
Notably, what really brings down the outfit would be the shoes, the shoes worn by girls do not compliment the trench coat's color and style. Sooyoung pairs her blue metallic trench with neon strappy heels, the mix of extreme colors does not give the coat justice. The same goes with the glitter pumps worn by Jessica, Hyoyeon and Tiffany which further punctuates the tackiness of the look. Last but definitely not the least would be on the sneaker wedges worn by Yoona, Seohyun and Sunny. The shoes look too heavy for the high fashion coat and the overall style of it does not blend well with the high fashion feel of the trench coat. The trench coat is already a statement piece in itself, so it would have been better if it was paired with simpler heels or sandals.
So what do you think? Is this a high fashion risk or a fashion flop?

Loading ...
Image credit: Vogue