She was the first member to be seen in Isabel Marant, and still to this day her love affair with the French brand continues to blossom. Occasionally seen with pieces from the hip and bohemian styled brand whether it be at a premiere, airport or tv show appearance, Sooyoung embodies the laid-back, chic philosophy of the French designer.
We take a look back on this year's 'Sooyoung et Isabel Marant' sightings.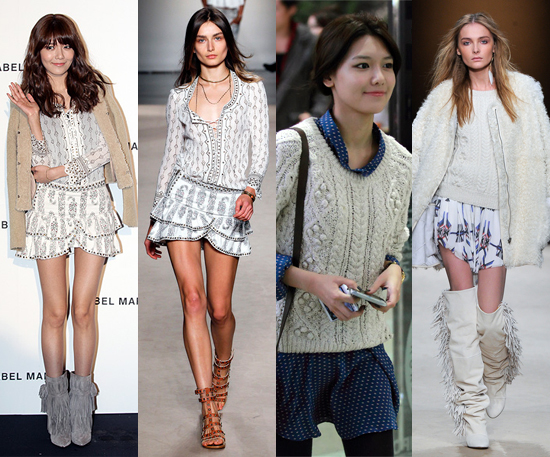 Isabel Marant Store Opening: Winning Outfit of the Week Sooyoung wore a embellished, cheesecloth dress from the latest 2013 collection, pairing her look with grey fringe suede boots and a cosy jacket over the shoulders. A strong and refreshing change in style from what we are used to seeing.
Incheon Airport: Opting for a laid back look, Sooyoung was seen at the airport with Isabel Marant's cable knit sweater from their Fall collection. Interestingly, Sooyoung paired her look with a blue polka dot dress, black tights and a J.W Hume bag she bought a couple of years ago. The contrast between the two different textures worked well.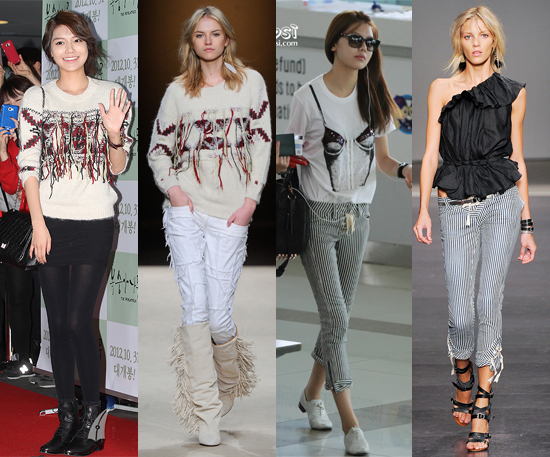 The Peach Tree Premiere: Snapped at The Peach Tree premiere, Sooyoung wore a striking alpaca-blend sweater teaming it with black skinny jeans and boots and a Chanel bag. The ensemble was not too over-styled but still interesting enough at the casual-dress code premiere.
Gimpo Airport: Flashback from the past! We didn't know that stores were still stocking these seasons old jeans! A pleasant surprise indeed when we found Sooyoung still managed to make the pants appear as a recent item. Unfortunately, when taking our eyes away from the pants and look at the entire ensemble, we can't help but feel the oncoming cringe at the Markus Lupfer shirt.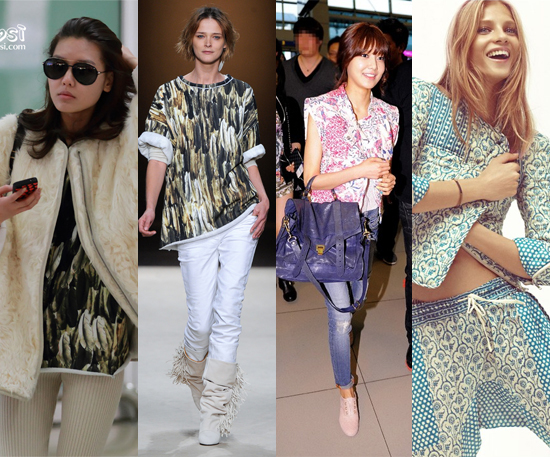 Gimpo Airport: Arriving at Gimpo Airport, Sooyoung opted for a snow bunny look with an Isabel Marant cream fur coat and matching beige leggings. Avoiding the look from being too bland or washed out, Sooyoung livens it up with a feather print shirt, accessorizing with Tom Ford sunglasses.
Incheon Airport: One of our favourite airport looks from Sooyoung this year highlighted her well-known effortless-chic style. This look had us staring dazed at our screens and lusting at each piece of the ensemble. Sooyoung wore a floral printed Etolie Isabel Marant gilet with faded, ripped jeans and Louis Vuitton sneakers. Her favourite blue Proenza Schoulder bag completed the look.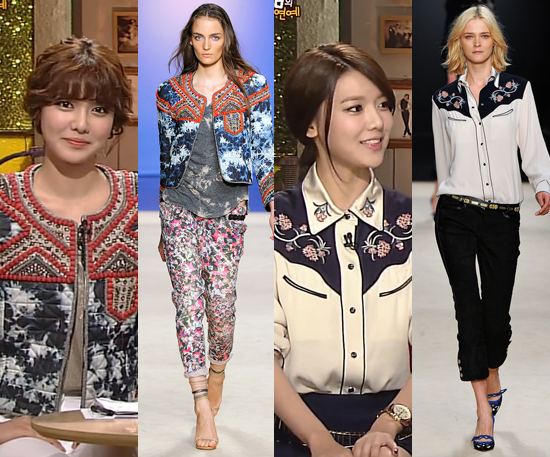 Of course Sooyoung's stylists had to include her favourite brand into her Midnight Entertainment wardrobe. Our first Marant look came earlier this year with a quilted denim jacket from the Spring collection. The jacket did all the talking as it was paired with white jeans and boots. From the neck down it was a great look, neck up we are still baffled with the choice of hairstyle.
Sooyoung stood out with Isabel Marant's Lauryn top in a recent Midnight Entertainment episode, pairing her western inspired blouse with a navy skirt from the same brand. Our favourite MC accessorized with a gold watch and simple pony tail. Stylish and chic.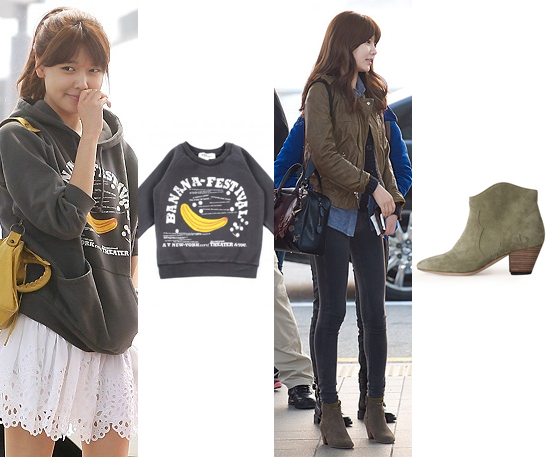 Other pieces Sooyoung was seen with included the Banana Festival sweater and celebrity favourite, the Dicker boot.
Runner up: Jessica & Chanel
Airport image credit: withsosi.com