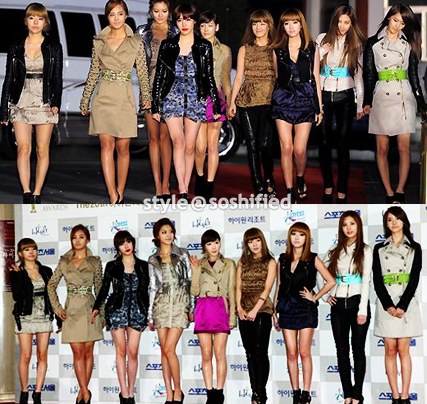 Just yesterday the girls walked the 20th Seoul Music Awards all dressed from Burberry's Spring 2011 Ready to Wear Collection. Our verdict? Miss. I don't know how to put this nicely but this was a total train-wreck.
It was disappointing to not only see the stylist rip off the runway outfits but then choose footwear that either were very similar to the runway shoes or that did not match the outfit at all.
Yuri and Yoona: Stand-alone coats on a runway a big no-no already. However I do love Yuri's make-up and hair.
Tiffany: Many fans have commented on the super glossy red lip-gloss, which wasn't helped by the flashing lights from the media. I wish they left Tiffany's hair down. I wasn't sure how Tiffany and Jessica's outfits fit into the whole thing as they were prominently dark blues and blacks while the other members wore beige…
Jessica and Hyoyeon: My two favorites on the carpet last night. I love Hyoyeon's outfit as it suited her perfectly, while Jessica looked fantastic with her ensemble – kudos on the choice of shoes.
But what did you think of last night's outfits?

Loading ...