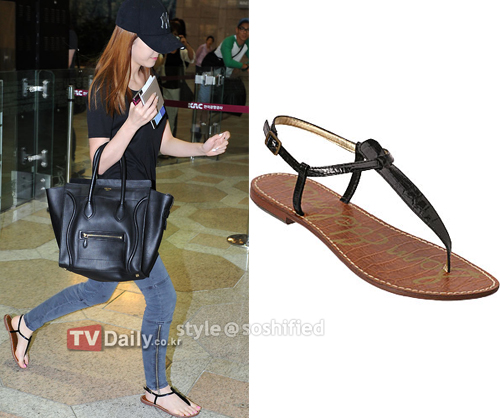 Review on Sam Edelman Gigi Sandal as seen on Jessica.
Specs:
Adjustable buckle closure with inset elastic.
Synthetic upper, lining and man-made sole.
Heel measures approximately 0.5″
The first time I saw Jessica with these sandals I was surprised over how stylish and affordable they were and I decided I needed to get my hands on these for summer!
These sandals have quickly become my go-to sandal ever since I purchased it, as they are incredibly versatile and I have personally found that they go well with many outfits and are easy to put on.
Normally, I am reluctant to purchase thong-like sandals because they can get uncomfortable after a while (especially in between the toes, if you're walking for a while!) but if there is one thing Sam Edelman exceeds in with these flats is comfort. I did not find any discomfort induced from the straps after walking around the city for a long time, furthermore the sole was surprisingly comfortable and didn't leave me with foot aches.
However, the one thing negative thing to comment about these sandals are its size. If you have a wide feet I would highly recommend that you double check on return policies if buying online or have a good walkabout when trying them out in the store. The sandals are a bit on the small side in terms of width and you may find (as I did) the outside sides of your feet may get a little sore as the sandals do not accommodate for the width of your feet.
What you are paying for:
Versatility
Comfort
Quality
Rating: 4.5/5
You can purchase the Gigi sandals here