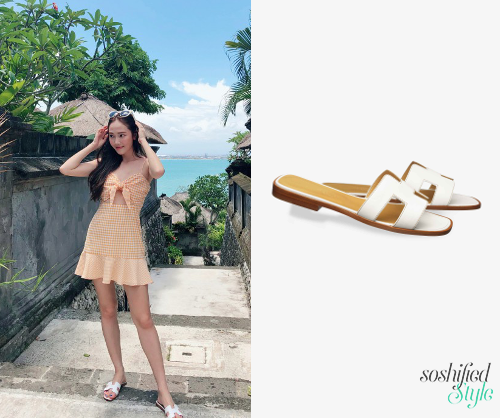 Review on Hermès' Oran sandals as seen on Jessica.
Jessica is no stranger to Hermès, given that she has been seen spotting numerous of its handbags. Today's review is on what is arguably the brand's most famous footwear – the Oran sandals.
The Oran shoes are flat slip on sandals with the tiniest bit of heel at the back. It features a distinct 'H' motif at the top. The ones Jessica wore on her recent trip to Bali are made of calfskin and feature a leather sole but the shoes come in an array of materials and colours. The most popular colours are white, black and gold, but the brand does come out with multicoloured seasonal ones as well.
A strong point of the shoe is how elegant it looks. Despite being a sandal, I love that it does not look atrociously casual. In my opinion, it gives off a rather classy and stylish vibe instead. This is probably due to the fact that the shoes are made out of leather. If you are looking for a sophisticated alternative to flip flops, these sandals could be a possibility.
If you are looking to purchase these sandals, I recommend buying a size up. Unfortunately, I bought these sandals on a whim and did not fully get to try them on before purchasing. I bought them in my regular size but find that it is too tight at the top and consequently, my pinky toe occasionally rubs against the leather 'H' portion of the shoe. This has resulted in me getting blisters on the sides of my feet, which explains why I don't wear them often. However, I do think that buying a size larger would rectify this issue as I have friends who find the shoes comfortable.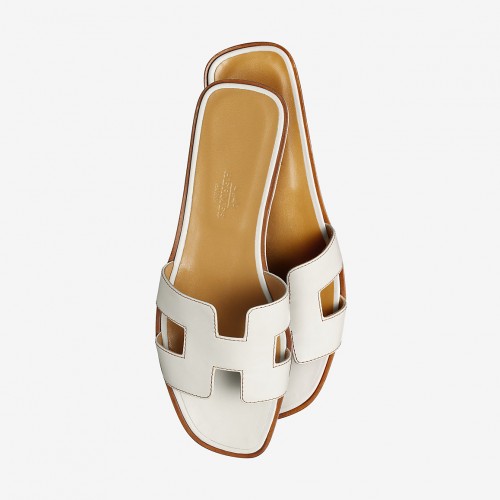 A personal drawback is that the tiny wooden heel at the back of the shoe makes quite a bit of noise. The click clacking noise is especially noticeable when walking down the stairs. Although a minor gripe, it is something to take note of.
Albeit Hermès is world-renowned for its leather, I was shocked at the relatively low quality of the sandal. I'm a loyal Hermès girl and I have been impressed with the quality of their other products so far. Although I only purchased my sandals around two to three years ago and rarely wear it, the leather lining of the shoe has started to rub off at the edges. I can only imagine that with more wear, there will be more tear.
Another issue that inevitably comes with every Hermès review is the price. The ones Jessica wore currently retail at $680 and this price will fluctuate depending on the type of material. For instance, the suede versions of the sandal has a price of $790. These are exorbitant price points for mere sandals! Something to take note of is that Hermès has the tendency to increase the prices of their bags every year, although I am unsure if such policy applies to their footwear as well.
All in all, unless you have the money to spend, I would not recommend buying these particular pair of sandals. Albeit tasteful, the quality of the shoes do not warrant its high price point. These sandals are definitely not a must and I can assure you that cheaper alternatives exist.
Rating: 2.5/5
You can browse through the different variations of the sandals and purchase the ones you like here.