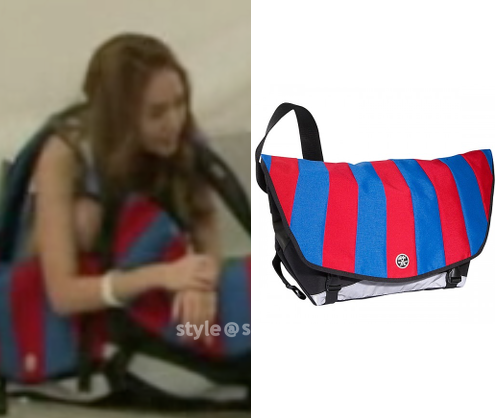 Review on Crumpler's Messenger Bag as seen with Jessica.
A very popular brand in South East Asia and Australia, Crumpler first started as a brand solely dedicated to messenger bags. However, they are now also known for their laptop carriers and camera bags. I will be doing a review on their classic and iconic messenger bag.
The messenger bag comes in different colour combinations and sizes. I have the biggest sized one and it is very spacious. Even if you have a small one, the bag can still fit plenty of stuff. This makes it a perfect choice for students, myself included. Once you tend to put a lot of items in, the bag does becomes slightly bulky. The bag weighs in at 0.9kg (1.96lb) with nothing in it, for the large sized. Like all other shoulder bags, it does hurt your shoulders after awhile. However, there is an adjustable and removable shoulder pad, which is rather comfortable. In addition, the length of the strap can be adjusted to fit your height.
The bag fits my 15″ MacBook Pro perfectly, still with plenty of room. However, the bag does not have a specific compartment for the computer itself. The bag has plenty of compartments for other essentials though. It features two small pockets in each side of the bag, a zipped compartment in the middle front, and a velcro compartment right behind the zipped compartment.
This messenger bag is a very 'safe' one as well. One of the most important features of this bag is the safety reflective strip at the bottom of the bag. This is a feature especially important for bikers. It has two closure straps which can prevent pick-pockets from stealing things too quickly. The bag also has two velcro seals for when you open the bag. This then makes quite a bit of noise. Regardless, the velcro might be rather annoying to some, but it does help in preventing and helping one be aware of pick pockets.
The quality of this bag is superb. The bag can be used for heavy duty activities which is probably why it does not get worn out easily. I have many Crumpler messenger bags (more than 5), and I can assure you, they will last you for a very, very long time.
Some might abominate this specific bag, but pair it up correctly with the right clothes, and no one will ever call you out for being embarrassing. Personally, I find the bag slightly tough and manly, but I still use it nonetheless. The colours that come with the bag are catered towards the men and not the ladies. I have not seen many women carrying the bag, but it is and it can be unisex despite it. In my opinion, the bag is not particularly expensive. It is a very casual bag which can be used for school, everyday use, whatever! It does last you a lifetime and is definitely worth the money.
Rating: 4/5
Although the bag is sold out for now, check out the different colour combinations of the bag here.