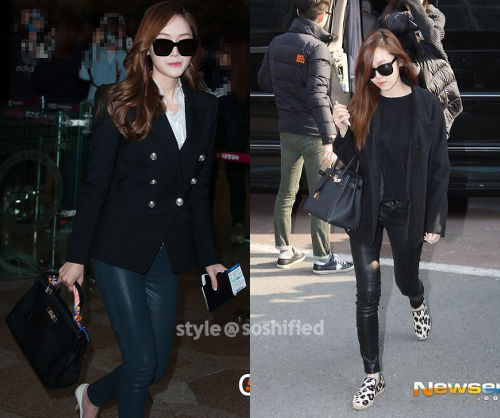 Review on the Hermès Birkin, Kelly, and Twilly as seen with Jessica.
If you are a haute couture fan, then you would have definitely heard of this brand at least once. If not, I am doubting your credibility. Hermès has long been known for their quality and craftsmanship, which is why their goods are so sought after everywhere around the world. I will be reviewing two of Hermès's most famous and most popular bags, the Birkin and the Kelly, as well as the Twilly, which essentially is a small scarf, but we'll get to that later. If you want to buy your first Birkin or your first Kelly, there a few things which need to be explained first.
1. Both bags come in an array of sizes; (which is determined by their width) The smaller sizes are the hardest to come across. My advise is to buy the sizes which will suit your body frame. If you are a petite, go for a smaller size although it may be a little harder to find. Here's a tip; you can usually find the smaller sized bags in Asia.
Birkin:
25cm
30cm
35cm
40cm
45cm
50cm
55cm
Kelly:
15cm
20cm
25cm
28cm
32cm
35cm
40cm
50cm
2. Both come in an array of colours. Hermès has seasonal colours as well as classic colours. It is definitely much easier to get classic colours because, well, they're classic, and they're there forever. Some classic colours include 'Noir' (black), 'Gold,' 'Etoupe' (grey), 'Rouge H' (red), the famous 'Hermès' orange, and more.  On the other hand, it may be a little difficult to get either bags in seasonal colours, because they only come out during specific seasons. Unless you are a regular at Hermès, you probably will not get either of these two highly coveted bags in seasonal colours however if you're lucky, you might just be able to score something. Here is a list of Hermès colours.
3. Both bags also come in a variety of materials which includes leather, canvas, and exotic skins (crocodile, alligator, ostrich, lizard). The most popular choice of material would be leather so I will do a run down of the most popular leathers found in Kellys and Birkins.
Togo Leather:
This leather is from baby calf. It is heavy and soft, although not as soft as the Clemence leather. One of the pros of this leather is that it is scratch proof, which makes it a very popular choice. One of the most prominent features of the Togo leather would be it's "veins" which you can clearly notice if you pry in close enough.
Clemence Leather:
This is also a heavy leather and is also quite soft, as mentioned above. Due to it's softness, it is prone to slouching, although it doesn't slouch as much as the Swift leather. It is somewhat scratch proof however if there are any scratches on the bags, it can be "refurbished to almost as good as new."
Boxcalf Leather:
This is calf leather. It is not a new leather as it has been around ever since Hermès started making handbags. It is not scratch proof, although the scratches will slowly blend into the leather. The leather has a glossy finish which makes it look shiny.
4. Some colours have contrast stitching. When the bag is made, stitching will definitely be involved because the bag itself is entirely handmade. If you realise, some colours that Hermès produce have contrast stitching. The contrast stitching is usually in white, unless you ask for a specific colour of stitching. This makes the bag more eye catching and 'pop.'  Contrast stitching is not ultra rare, however it is sought after. Colours which have contrast stitching include 'Gold,' 'Blue Jean,' 'Etoupe,' and others.
5. Both bags come with different types of hardware. The most popular would be the palladium hardware and gold hardware. You usually won't get to pick your choice of hardware because it is already extremely difficult to get the bag, so my advice is, grab whatever is there, no matter the hardware.
6. If you look close enough, you will find a small imprint of a letter inside a geometrical shape in your bag. For bags made between the years 1997 to present, the letters are encased in a square. For bags made between the years 1971 – 1996, the letters are encased in a circle. This letter represents the year the bag was made. For example, if the bag was made in 2014, the stamp would be R. If the bag was made in 2013, the stamp would be Q, and so on.
Now that we've got the basics down, let's move on to the bags.
The great thing about both these bags is that both males and females can carry these bags. I have seen plenty of males carry these two bags, and it looks equally as great on them. The men tend to carry the larger sizes of  the bags.
The Birkin bag features a zip pocket at the inner back of the bag. This can be used for more personal items. The bag also has a wider pocket along the inner front of the bag. Other than that, there aren't any pockets elsewhere. The Kelly bag has similar features to the Birkin. At the inner back of the bag, there is a zip pocket, alike to the Birkin. Along the inner front of the bag, there are two pockets. The Birkin has two handles whereas the Kelly features only one handle along with a removable strap. Personally, I prefer the Kelly to the Birkin. You can carry the Kelly as a shoulder bag or just on your arms. However, you are not able to carry the Birkin as a shoulder bag, which in my opinion isn't all that great, considering the weight of these bags. But really, it's all about personal preference.
There are two types of Kellys, known as "Retourné" or "Sellier." The Retourné has a softer look to it whereas the Sellier has a firmer look to it. The edges of "Sellier" are much sharper which gives off a more rigid look to the bag. It is definitely much harder to get a Sellier Kelly because it's much harder to make as compared to the Retourné Kelly. The photo below shows a comparison of the two different types of Kellys. The one on the left is a Sellier and the one on the right is a Retourné.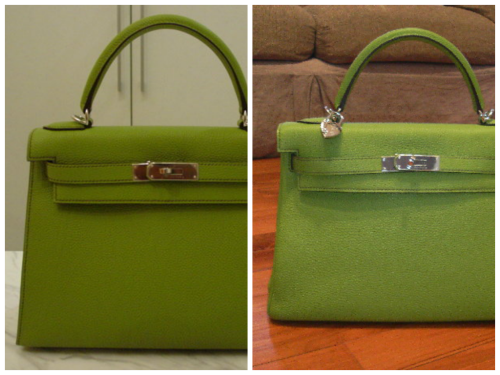 Image Credit: ThePurseForum
Both the bags come with a 'clochette.' This 'clochette' is basically a lock (which comes with a key) and a keychain which you can hang onto your bag. Make sure to tie the keychain tightly as it is a bit loose and if you're not careful, you might drop it. Both bags also come with "raincoats" which, basically is to protect your bag from the rain.
Disadvantages:
One of the most irritating points about both of these bags are their weights. Even before you put anything inside, it weighs like a rock. A typical 30cm Birkin will weigh approximately 1.2-1.4kg (2.6lbs-3lbs) already. I don't know about you guys but in my opinion, it's pretty heavy.
An Hermès review wouldn't be complete without talking about the price. Similar to Chanel, Hermès increases their prices for most of their goods annually, and no doubt, the Birkin and Kelly are included in the price increase. I could spend millions of Hermès bags and not feel bad. Why? It's because of the quality and their value. An Hermès bag will still be valuable if it is well kept and as the years go by, it will be considered vintage. If you don't like it, sell it! There will always be someone willing to buy your Birkin or your Kelly, I guarantee. I usually say this in most of my reviews but really, the Birkin and the Kelly are definitely worth the investments. If you asked me to choose a bag I would invest in, I would choose both these bags in a heartbeat! There is no specific price I can give you because it all depends on the material of the bag, the hardware of the bag, the size of the bag and everything else. As of April 2014, it starts at $9000 for the Kelly, size 28 and $10,900 for the Birkin, size 30.
Twilly:
People who carry Hermès bags tend to spice up the bag up with accessories. Our resident fashionista Jessica has done the same with her Kelly. She used what is basically a small scarf, known as a "Twilly," also from Hermès, to decorate her handles. This is a very popular style of spicing up one's Kelly or Birkin. It is 100% silk and is made in France. If you tend to have sweaty palms, it is a good idea to tie a Twilly around the handles so that the sweat does not rub onto the leather.
The Twilly doesn't necessarily have to be used for the handles of the bags. It is so versatile, it can be used for almost anything. You can use it as a bracelet, as a headband, as a scarf, as a tie, as a hairband, whatever! Another great thing about the Twilly is that it comes in so many different patterns and colours, it'd be difficult to find someone who has the same Twilly as you, which makes it all the more unique!
Be warned though! If you leave your Twilly tied for too long, it will get creases and become wrinkly. If it does happen to get wrinkled, you can iron it, but I suggest sending it to Hermès to iron it for you. On the Twilly you will notice an Hermès label stitched onto it. This label will eventually come off so be careful!
I can only wish you luck in finding your dream Hermès bag!
Credit: ThePurseForum, Spotted Fashion, Lecrin