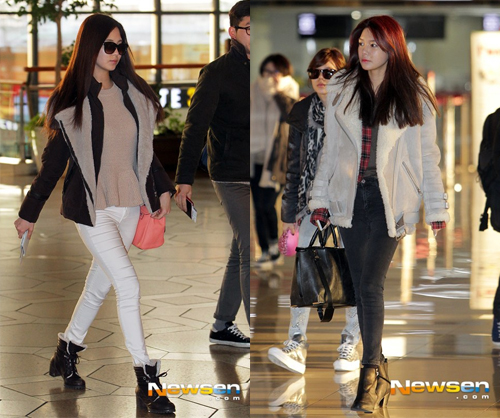 In this bone-chilling season, what's better than snuggling in a warm, fur jacket?
As our girls travel to and fro Japan, which are both countries below freezing, their ensembles are much more conservative and snug. This week, coincidentally, our double-S duo Sooyoung and Seohyun wore fur jackets at the Gimpo Airport. Maknae Diva Seohyun strutted in a pair of white skinny jeans and a medium brown pilot jacket  with a wheat coloured sweater underneath. Keeping her delicate legs warm are a pair of matching fur lined hiking boots.
On the other hand, Sooyoung chose a cream colored jacket with a checkered shirt and denim jeans. Her Gray Velocite Shearling Jacket showcased more details such as a leather buckled belt and cuffs. Instead of wearing hiker boots, Sooyoung adorned a pair of simple ankle boots.
Who worked the Fur Jacket more, Sooyoung or Seohyun?

Loading ...