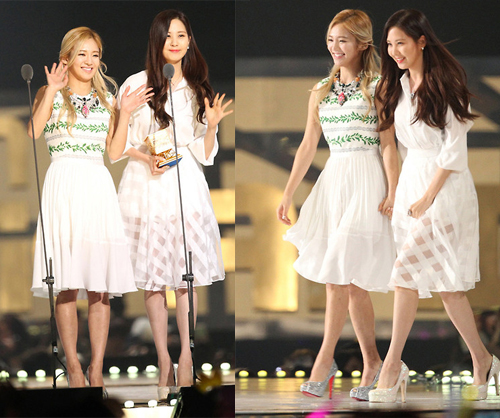 Looking absolutely divine at the M.Net Asian Music Awards, Hyoyeon takes the title this week for outfit of the week. Smiling ear-to ear, Hyoyeon opted for a fresh, youthful look as she took to the stage with band member, Seohyun to accept a award.
Wearing a short silhouette, Hyoyeon's dress details included printed green vines and silver chains around the bodice and a pleated skirt that fell loosely from the waist. Adding complimentary colours to her look, Hyo wore a statement chain featuring an array of colourful stones.
With toned legs on display, Hyoyeon added height to her look with a towering, twinkling embellished pump. She finishes her look opting for a fresh make-up look with a pop of pink on the lips and loose, lush waves. Wow.
With award season right around the corner, Hyoyeon is off to a great start and we can only wonder what amazing fashion concoctions the girls have in store for us.