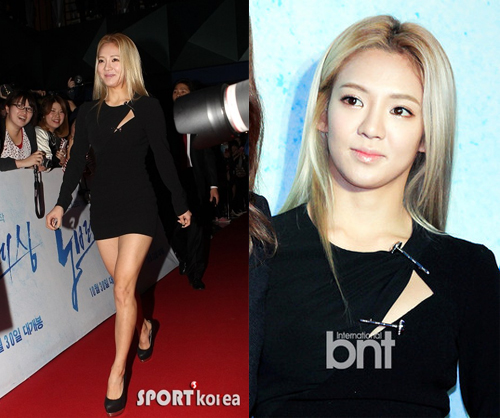 As Girls' Generation Yuri debuted in the big screen with her movie 'No Breathing', Hyoyeon attained the honour of OTW while supporting her fellow group mate at the movie's premiere.
This simple bodycon dress hugged Hyoyeon's body and perfectly presented her S curves. The little black dress had a simple ripple effect which adds interest to it. Yet the most eye-catching part must be the cut  out detail on her front chess (there is also a cutout detail at her back too!) which contrasts with the rather conservative crew neck collar. The whole ensemble was simply completed by a pair of black pumps.
Congratulations to Hyoyeon for winning this week's OTW with this sleek, simple, all-black outfit!