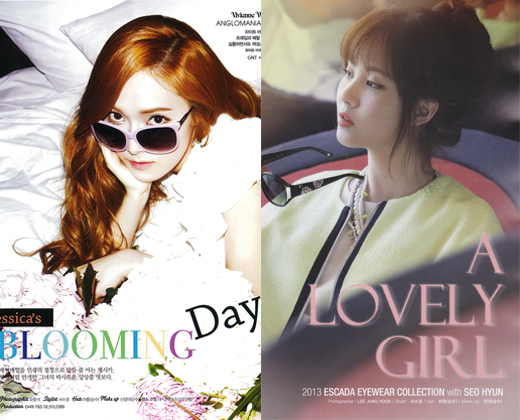 Girls' Generation announces the advancement of Summer with their newest photo shoots of Sunglasses!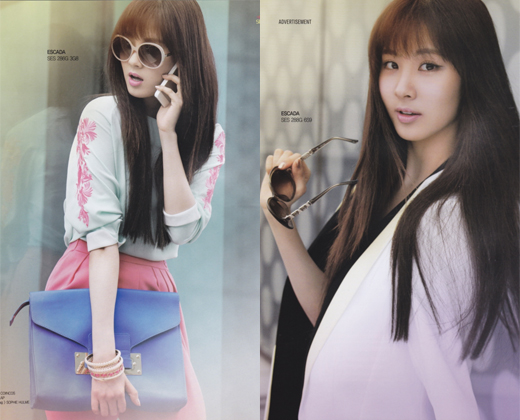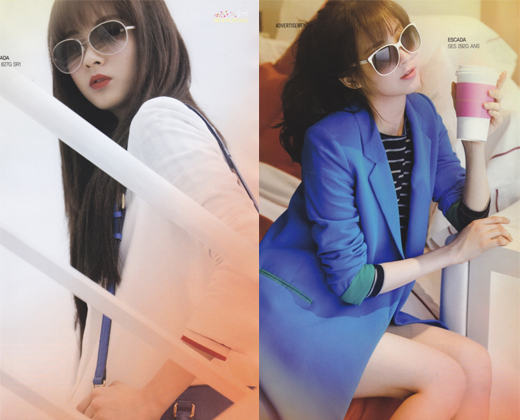 Our angel Seohyun modeled Escada's collection of eye wear. Yet again, she demonstrated her mature and sophistication while posing for the photo shoot. This photo shoot reminds us of the American drama, Gossip Girl. While being photographed by paparazzi,  Seohyun can still balance her decorum, sparkling with hints of feminine beauty. Our socialite had her hair straightened while taking down her jewel-embellished sun glasses, showing her beaming eyes. What makes the photo shoot interesting is round the street corner, Seohyun was holding her sky-blue clutch, talking on the phone haughtily, which is totally opposite of what our maknae does in daily life.
In the cafe, Seohyun had her hair curled and tied up in a messy bun, she took off her shades and looked out of the window, with her combination of a pearl necklace and a yellow bomber jacket, she totally worked out the celebutante look.
Overall, Seohyun did a great job on portraying the daily life of an uptown girl. The ensemble of colorful blazers and suits looked so cosmopolitan and womanly. I am quite sure the collection of eye wear will have a sales boost.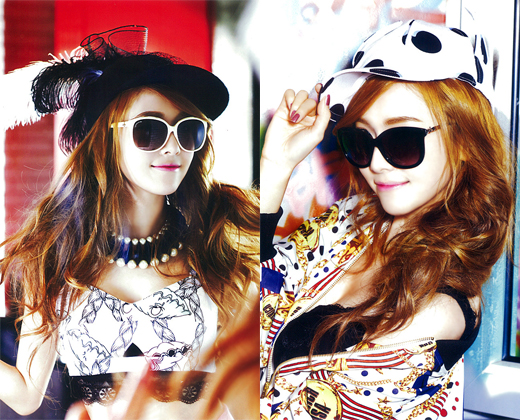 On the other hand, our ice princess Jessica might be melting with the heat, therefore  her necessity: Shades, have to take their places. Her photo shoot titled 'Blooming Day' features Jessica, the girl next door fixing her closet and trying off her clothes from her latest haul. Her sweet smile and glittering eyes definitely had Sones' hearts blooming! This collection of Vivienne Westwood eye wear comparatively is more girly and young than Seohyun's collection. It consists of shades with interesting shapes and color blocking combinations. The most outstanding photo of the bunch must be the one which Jessica wore a polka dot cap and a Joyrich jacket with a lace tank, her slender shoulders and body figure immediately captured attention. Her witty smiles and peeping eye definitely melts Sones' hearts.
Another photo showcases Jessica wearing a Fleamadonna bra top and a statement pearl necklace whilst wearing a fancy feather hat. Seems like our girl is enjoying her time of dress up. Throughout the pictures, Jessica slightly curled her smokey-topaz hair, some shots also had Jessica holding flowers, which reciprocates with the theme, 'A Blooming Day'.
To sum up, Jessica was dressing up herself like any teenage girl does at home, interpreting their daily life.

Loading ...
 Image Credit:  SeohyunGall, GNT + Ayutthaya