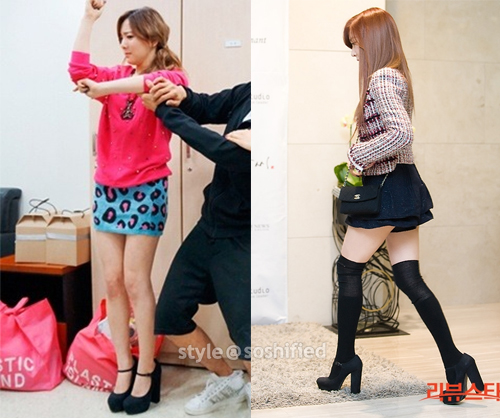 Review on the Forever 21 Faux Suede Platform Mary Janes as seen Taeyeon and Tiffany.
Forever 21 also offer the same shoe in different colors and fabrics such as a Patent Platform Mary Jane seen on Tiffany in the Bean Pole Event.
Specs:
Round toe.
Heels are approximately 4.73" (12 cm).
Adjustable buckle strap.
Softly padded insole lined in textured outsole.
First of all, I have had my eye on these shoes since the day I tried them on in the store and hesitated on buying them. However, upon seeing it on Taeyeon backstage in Music Core and on Tiffany during Hong Rok-ki's Wedding, I called every Forever 21 branch in our country to see if they had them. In almost all the stores, they were sold out until luckily I found a branch nearby where they had a few stocks left with my size. Now that I have bought them I now know why they sold like hotcakes:
It's sleek and simple Mary Jane style is wearable in jeans, leggings, shorts or skirts. The Mary Janes give off a very feminine yet sophisticated look even if you want to dress up or dress down. They elongate the legs without adding too much height and add poise to every stance.
Unlike a stiletto, these chunky heels give support in terms of balance so every step is sturdy because of its wide base. Forever 21's Mary Janes are perfect for the girls who what the extra height without baring the pain of tiptoeing all night. Because of the platform, the angle of the feet is just right that it supports the arch of the foot thus you can last in these shoes for hours.
Drawbacks:
–       Its suede fabric can easily show if you've stepped into something dusty (regardless of color) but can easily be brushed off and be good as new.
–       The weight of the shoe is quite heavy so it may cause you to stomp a bit if wearing the shoes for the first time. It is not advisable for too much walking and it may make you unsteady the first time you walk in them.
Consensus: Like every other pair of heels it needs some time of getting used to, so expect some wobbling and some pain in the balls of your foot.
 Rating: 4/5
This product is currently sold out at forever21.com, but still available at Forever 21 Korea and Forever 21 China.