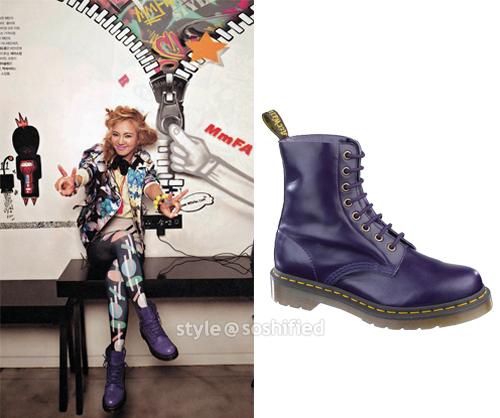 Review on Dr. Martens Pascal Boots as seen on Hyoyeon.
Dr. Martens offers a large range of boots that you can check out right here.
I bought these boots after a friend's recommendation, and seeing how they were so stylish I did not think twice about it! Thank goodness these boots are absolutely amazing and I didn't have to regret it.
I have a lot of good things to say about these boots so here they are:
The boots are very well made and are sturdy as the soles are sewn to the shoes instead of being glued on. They are also very durable and have lasted with me for about two years now. On top of that, they're stylish and either match with your outfit, or make your outfit look better.They are absolutely comfortable and give great foot support, which is something i definitely look for in good shoes.
However, it does need some breaking in as it is leather and it's quite stiff when you first buy it, but that's only natural. Also, socks should be worn with these boots to avoid chafing of the back of your heel so it can get really hot when you wear them in the summer- it's perfect in the winter! It's pretty expensive too but you're definitely paying for quality stuff
Thus, it's a great pair of boots to invest in, considering it's durability and the comfort it brings. I personally feel that these boots are a must-have and i'll definitely be getting another pair soon!
Rating: 4.5/5