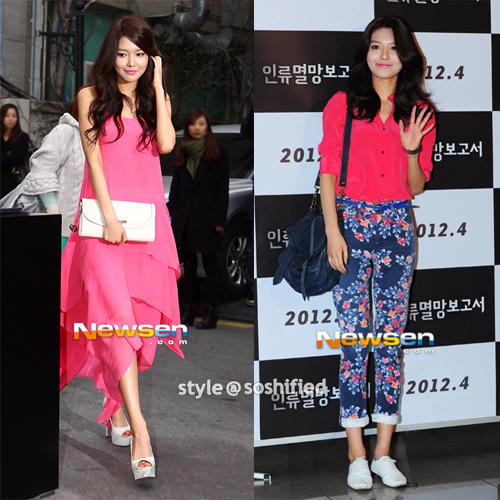 Even though promotions for their album are over and some of the members flied solo to their respective acting and emceeing jobs, Sooyoung appeared in front of the press in attendance to several events in the past week. And she didn't neglect her fashionista ways as she took this edition of Outfits of the Week by storm and earned a double win.
On March 27, Seohyun and Sooyoung were present at DKNY's Fall 2012 Fashion Show wearing pieces from the brand's Spring 2012 Collection. While both were remarkably beautiful, Sooyoung had taken us aback in that flowy pink dress. Sooyoung, whose favorite color is black, looked ravishing in a feminine shade of pink. She mentioned in an interview in last month's issue of InStyle Magazine that she was always hesitant when wearing colorful outfits because she was worried it wouldn't go well with her skin tone. But we're glad she finally considered the idea because she undoubtedly looked beautiful. Her long waves and the matching pink lips certainly lived up to the lady-like image she successfully pulled off. She carried along an oversized clutch, and apparently that's not the only thing that appeared unusual in size. We noticed something that the stylists might have overlooked, but Sooyoung's chunky heels seemed to be a tad big for her. It dragged the whole ensemble down a bit but overall, it was something we could still tolerate.
Sooyoung then appeared out of the blue at the premiere of the movie "Doomsday Book" days later. She wore a hot pink silk shirt and a pair of jeans rolled up and printed with a floral pattern. The colors definitely stood out but in a good way. She polished her look with her Proenza Schouler PS1 and white Repetto oxfords. The outfit was effortless as not to overwhelm the patterns and color. It was convenient for the movies and still fashionable to get the attention of the onlookers.
It seems like Sooyoung gave her closet an overhaul and exchanged blacks and grays with pinks and blues, just in time for the spring season. We're definitely expecting to see more of this little transformation in the future.