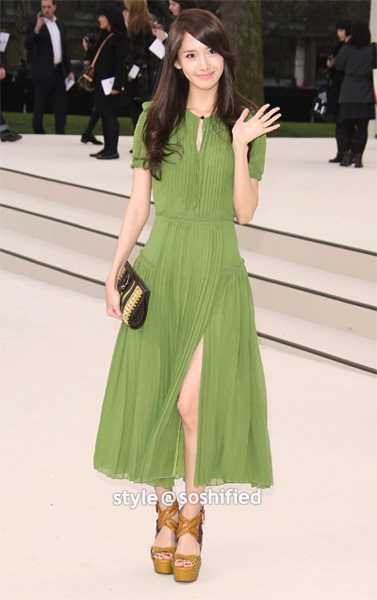 Girls' Generation's plan of going global seems to work after all the international appearances on talk shows and whatnot. And now they even made mark in the fashion world as three members attended Burberry Prorsum's 2012 F/W Collection Fashion Show held in London a few days ago. Seohyun, Yoona, and Tiffany were personally invited by the Chief Creative Officer of the brand, Chris Bailey, as representatives of Korea. They definitely brought their A game as they filled the front row alongside notable stars, looking more gorgeous than ever.
They were seen wearing pieces from Burberry Prorsum's 2012 Spring RTW Collection from head to toe (details). Each had their own style going on, but we absolutely loved Yoona's the most. She had on a long dress that looked like it was made for her. The spring green complimented her skin tone while the fit of the dress did justice to her modelesque figure. We thought the keyhole neckline and slit of the dress were the perfect twist to its modest design. To accentuate the simplicity of her outfit, Yoona wore her hair down and very natural and minimal make-up. Her killer wedges and clutch gave the look a hint of life because of their intricate design and raffia detailing. Combined with her undying charm, she was an adorable woman on a mission.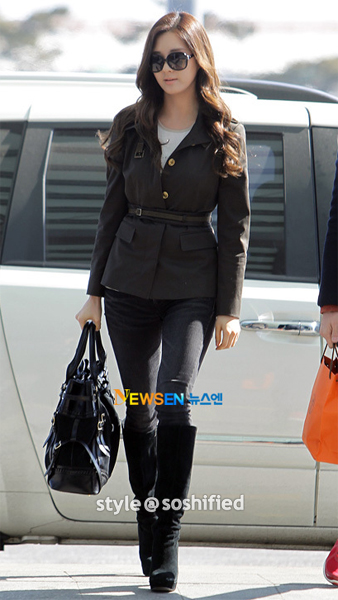 Days before the event, Seohyun and Yoona made their grand exit to London which they didn't take for granted. Leaving on separate days, both suited up in Burberry outerwear and bags which seemed proper courtesy for the renowned fashion house. The classic designs of the British brand helped them to transition from girls to mature women. And ultimately, Seohyun won our hearts with her Burberry jacket and tote bag, and black suede boots. She looked like a royal who was catching her first-class flight to the UK. The timeless combination of a stylish jacket plus boots and a pair of sunglasses worked well on Seohyun; it was classy and chic at the same time. She certainly had the standards of a typical Western beauty.