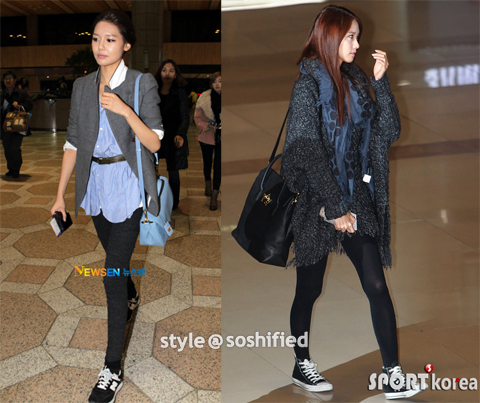 Once again, our girls walked through the airport just in time for the 23rd International Jewelry Tokyo and the 26th Golden Disk Awards in Osaka. And out of the nine, we found two girls whose outfits we think were very refreshing to see from superstars like SNSD. Long-legged members, Sooyoung and Yoona, decided not to bother with heels and sported sneakers to the airport. However, they didn't let comfort win over fashion as they still tried to dress up.
Sooyoung went with smart casual by wearing a grey blazer, a boyfriend shirt with a belt around it, and a pair of leggings. We adore the way Sooyoung pulled up the collar of her blazer adding a new dimension to it. Her hair was gathered into a loose bun showing off her beautiful face. The baby blue satchel from J.ESTINA matched perfectly with her outfit.
Yoona, on the other hand, simply slipped on an oversized knit poncho-slash-sweater and wore black tights underneath. She accessorized with a polka-dot scarf from Marc Jacobs and a J.ESTINA tote bag. To top it all off, she wore her pair of the infamous Chuck Taylor by Converse. The outfit is very snug yet stylish, just perfect for the chilly weather.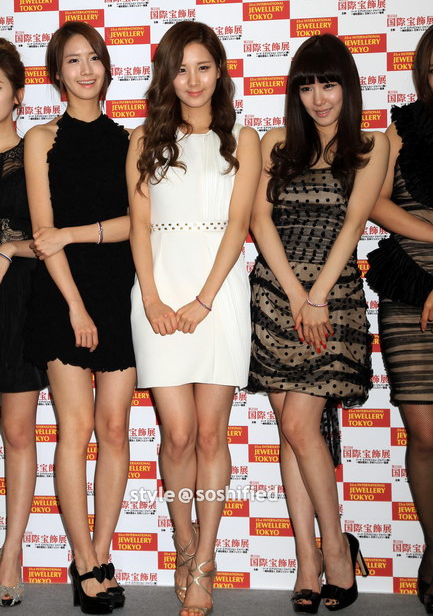 One of the agenda of the girls in Japan includes the 23rd International Jewelry Convention where they seized the title of "Best Jewelry Wearer". Seohyun stood out amongst members donned in dark colored dresses, in her refreshing white Versace number. She becomes the second member (Yoona being the first in Nina Ricci) to wear a piece from a Spring 2012 collection. Seohyun's look is styled with tousled waves, barely there make-up and complimentary gold Jimmy Choo sandals. A fun, simple, flirty look that stands out even more with Seohyun's smile.